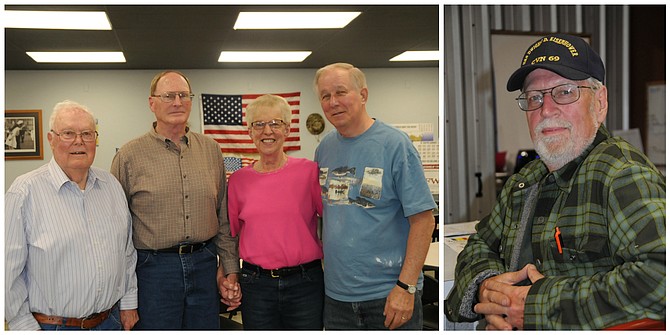 Photo by Lorie Palmer
Vietnam veterans (L-R) Earl Marsh, Jim Babb, Connie Workman and Dennis Moore recently met at the Idaho County Veterans Outreach and Community Center in Grangeville; (right) Vietnam vet Jerry Baird.
GRANGEVILLE — Vietnam War veterans may have not received the grandest welcome home; however, that is hoping to be remedied as the Vietnam 50th commemoration is set nationwide.
In Idaho County, all veterans of the Vietnam War era are invited to a "Welcome home" ceremony this Sunday, June 25, starting at noon, at the Idaho County Veterans Outreach and Community Center, 318 East Main Street in Grangeville.
"We want everyone to know they are welcome and how much we appreciate them and their service," said center manager Ginny Cash.
•
Dennis Moore served in the U.S. Marines and was in Vietnam 1965-66.
"I volunteered for Vietnam following basic training," Moore said, as an MOS.
Moore grew up in Bath, N.Y., and made his way to Grangeville with his family in 1991.
"[In war] you see things no one should see," he said, subdued. "I've spent years sorting through it all and I still am. With PTSD, they tell you to try and talk about it. It's hard, but over time, it helps."
Earl Marsh was in the Navy from 1952-1973. He was born in a covered wagon in California in 1935. He lived in and was stationed in various places including Oklahoma, Florida and Hawaii.
Marsh served on a tanker as an engineman, on a submarine and spent years as a special ops diver.
"It was a good experience for me, one that taught me a lot," he said.
After retiring from Standard Oil, he and his wife purchased a Harpster area ranch.
Jim Babb of Grangeville served in the National Guard Dec. 1962-Dec. 1968. He was part of the unit called up from Grangeville and became a platoon sergeant.
"I only ended up in Vietnam for a short time," said Babb, who is generally quiet about his service. It was his wife, Faye, who disclosed he was spit on while in uniform on a bus in San Francisco upon returning home.
Babb remained quiet at the memory, shaking his head.
"I don't care who served when, for how long, doing what," interjected Moore. "They did their job. Every piece of the puzzle was important. Every person from every branch contributed."
"There was definitely turmoil in the public during those times," Babb spoke. "The reception across the nation was not great. I don't mean in Grangeville, but other places."
Connie Workman, born and raised in Grangeville, served as a nurse in the United States Air Force from 1965 to 1986 and was in Vietnam from 1966-1967. She was part of the first field hospital on Camroon Bay, a 260-bed facility. She also had an unpleasant experience upon her return to the states.
"I was in the airport in uniform when some young hippies spit on me," she said. "I was so angry. I told them there were young men 18, 19, 20 years old dying so they could have the right to spit on me."
Workman said she remembers being "appalled" at what was on television regarding the war.
"I just wanted to say, 'you weren't there,'" she stated.
Babb returned home to continue work at First Security Bank while Workman began work at the nursing home when she came back to her hometown.
"I really feel every person should spend two years in the military following high school," she said. "You cannot truly appreciate the freedoms we have until you see those who do not have them."
Jerry Baird, who spends half the year in Elk City and half in his home state of Minnesota, remembers he was water-skiing when his mother walked out holding the dreaded letter.
"I'd been drafted," he said. "My mother cried."
He served from 1969-71 on the First Calvary Division of the U.S. Army.
"I didn't know what I was getting myself into," he said. "If you can imagine, it was like walking in from a Boy Scout to this horrible conflict in Vietnam. I was 19. It didn't even seem real."
Baird was adversely affected by Agent Orange and is now a 100 percent disabled veteran, although he was able to return home and work for a moving company for 43 years.
•
Cash said she knows there are many stories from those who served and were never adequately thanked for their military time during the Vietnam War era.
"We really encourage veterans from all eras of service to attend and thank our Vietnam vets," she said.
The event is sponsored by the Idaho County Veterans Association, VFW Crea-DeHaven Post 3520, American Legion White Bird Post 152 and Grangeville Post 27. Grangeville Lions and Elks also made donations.
Call 983-9387 with questions. For details on the national event log onto www.vietnamwar50th.com.