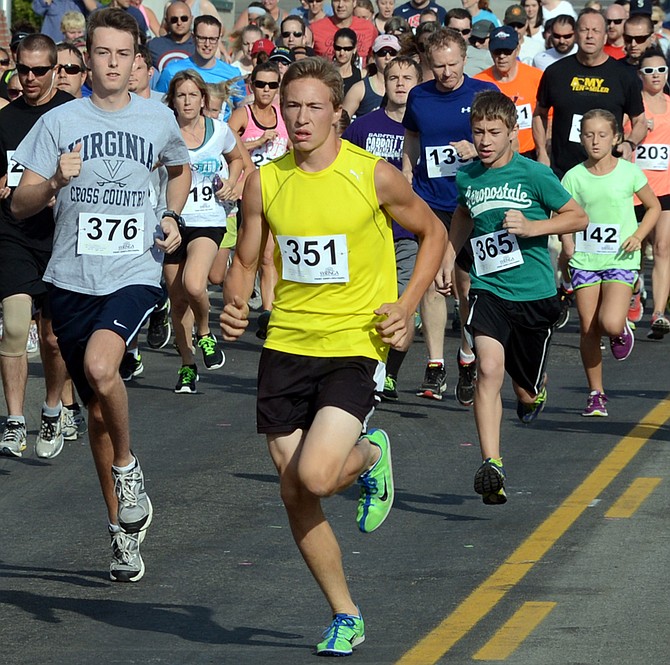 Photo by Andrew Ottoson
Firecracker Fun Run event, pictured in 2016
GRANGEVILLE — The Firecracker Fun Run will go off this July 4 as it has for years, but will pop a bit differently this year.
The route in recent history had gone from Heritage Square up Main Street to the truck route and looped back to the starting point via Idaho Street.
But that route required Grangeville Police Department to commit four to six officers to road closures from about a quarter-to-eight until completion – and because the Street Sports crowd would begin to arrive just as the fun run would near its conclusion, it taxed organizers' ability to track the finishers.
Noting traffic on the old route during the race last year, organizer Jo Anne Smith highlighted how the new route this year stands to protect runner safety.
This year, the crowd of an anticipated 180-plus runners will gather in the Umpqua Bank parking lot for same-day registration and check-in, from which they'll move to the start/finish line midway down the block on West North First Street. When the race starts, they'll head west to Idaho Street and proceed north, then cut along the truck route to Airport Road, which they'll follow to a turnaround near the Airport. The course proceeds back to the start/finish line the same way it came.
"It makes it a lot easier to control traffic," GPD chief Morgan Drew said Wednesday, June 14. "It's a similar route – though not exactly the same – to the one the Flamingo Fun Run follows in October."
Smith noted that the new route will allow Main Street to remain open and that it takes a more direct approach to covering 3.1 miles.
"You don't have that first hill to go up, it's flat, there are no gravel roads, and it will help at the finish line," she said. "We'll still have officers lead the race and follow behind to let traffic know that there's a race going on, and that's good for safety, too."
Preregistration is open now and will close far enough ahead of race day to allow organizers – all volunteers – to guarantee T-shirt sizes for those who sign up early. Preregister at Syringa Hospital, by mail, online or over the phone. Registration will also be open on the morning of the race, starting at 6:30 a.m. July 4. New this year will be an option for early check-in, so that runners can get their shirts and bibs 11 a.m. to 2 p.m. July 3 at the Syringa Hospital gazebo.
The race will begin promptly at 7:45 a.m., to allow time for participants to finish before Street Sports start.