Tires get us to places we have to go, and more importantly, destinations we want to go. And North Central Idaho has lots to go see.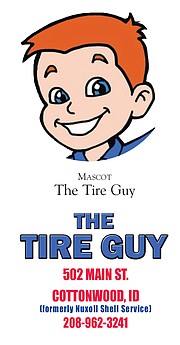 Take a day trip along Idaho County's scenic U.S. Highway 12. Specific attractions include:
Lochsa Historical Ranger Station: This U.S. Forest Service facility was built in the 1920s, and today it offers visitors a view of the early life at a backcountry ranger station. Open 9 a.m. to 5 p.m., seven days a week, Memorial Day to Labor Day. Located 60 miles west of Lolo Pass between mileposts 120 and 125.
DeVoto Memorial Cedar Grove: This roadside respite was named for Bernard DeVoto, a conservationist and historian. The two short trails loop through a beautiful western red cedar grove where DeVoto edited the Lewis and Clark journals. These massive red cedars are the largest trees in the state of Idaho and can live up to 3,000 years. The grove is located eight miles west of Lolo Pass on U.S Highway 12 at milepost 167.
Lolo Pass Visitors Center: Set on the Idaho/Montana border on U.S. 12, the center is located near Glade Creek Camp where on Sept. 13, 1805, the Lewis and Clark Corps of Discovery camped on their historic journey west. The log cabin-styled visitor center offers historical interpretive information and a nature trail system.
Ready to travel? Check out The Tire Guy for your vehicle needs, as well as for roadside tire assistance. We're here to help get you places: 208-816-8040 (ask for Rick) or 208-962-3241 (shop), 502 Main Street in Cottonwood.