"Ever been in a group of riders where once on the trail you can notice everyone's riding skill? When on the trail, what we call pushing someone of a lower skill level is a dangerous game," said Bud's PowerSports service technician Michael Rice. "Riding close to someone in front of you on the trail isn't much different than on the highway. The person in front may feel pressured to speed up, and on the trail, there are so many different variables that can cause a new rider to wreck."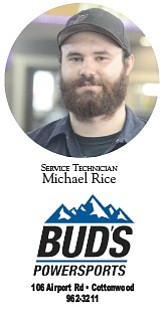 An inexperienced rider is up to 13 times more likely to have an accident during their first month than an experienced rider. Experienced riders know their limits and stay within them. Trail riding can present situations that can take even experienced riders off-guard if they're not prepared, but it can be safe and fun for everyone: "Just be cautious of how others on the trail ride," Rice said.
One of the most important times for caution is when loading or unloading.
"I'm sure everyone who has been riding long enough has seen someone lose the ramps from underneath of them while loading either on a trailer or truck," Rice said. "Be sure if you or anyone else is loading their machine they run a strap from the trailer or pickup to the ramps for safety."
Bud's PowerSports employees are enthusiastic users of Bud's products and are glad to share their knowledge.