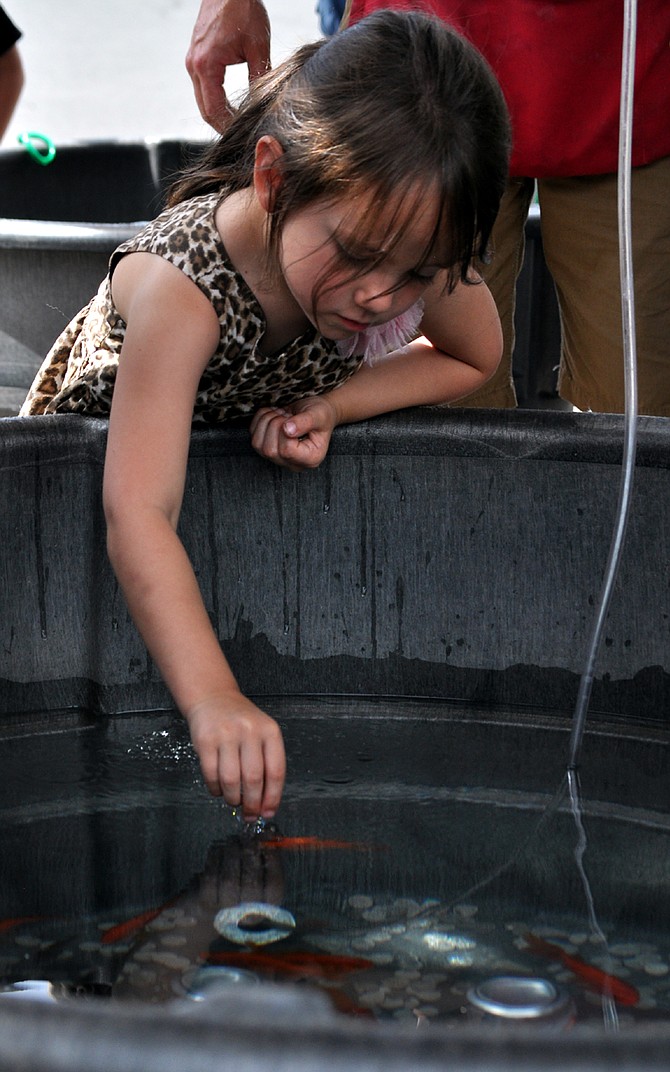 Photo by David Rauzi
A child drops a dime into the water trough, attempting to land it on the bottom of a submerged pop can and, in turn, win a goldfish (pictured at the 2016 Border Days).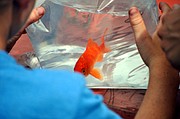 GRANGEVILLE — What do Border Days and Christmas have in common? The fish pond.
Uh … what?
For about 35 years, the Grangeville Volunteer Fire Department (GVFD) has run what has become a Border Days staple. Kids of all ages take their chance with a fist full of dimes, dropping them into a filled water trough, hoping to put one on the concave bottom of a submerged pop can.
Do that, and you'll win yourself a goldfish.
"It started because we needed to make some money for the Christmas truck," said Bob Beckman (GVFD, retired), one of the original firefighters who started the fish pond back about 1982. The current coordinator is Tommy Jacobs.
Each Christmas season, the department runs out its brightly decorated 1942 Buffalo fire truck throughout the community with Santa Claus on top, and broadcasting seasonal music. The annual activity is supported only by volunteering firemen and donations, so the fish pond idea came up to provide revenue to pay for gas and miscellaneous needs.
"We'll go through 700 to 900 little goldfish," Beckman said, which are store-bought, "and about 250 large ones that we get out of people's ponds. But we have to go get those, and that takes about 30 to 40 hours of fishing and netting to get that many goldfish."
"And we do make a good profit," he said, "and the profit is well-used," for not only the truck but also an annual department scholarship offered to graduating seniors of firefighters.
The two troughs will often be packed with 15 participants apiece, and two people deep waiting to go in, Beckman said, children as well as adults. Kids will be dropping dimes in, and often a parent will soon be helping drop a few dimes in, "and the next thing you know, the parent will be dropping in more dimes than the kid," he said.
The event has become a cherished memory and tradition for many youth: "Kids look forward to it," Beckman said, who has had high schoolers come to him saying this was one of the best parts of their Fourth of July. Elementary-age kids who won the little two-inch feeders years ago now have 10- to 12-inch goldfish still swimming years after being won.
"There's not a lot for little kids to do," Beckman said, and some Border Days events things are expensive for a family to be doing more than once. The fish pond gives them an inexpensive activity they can do for a while. Coupons for three free tries are also provided to kids after the kiddies' parade and from some local merchants.
And, if activity is slow at the pond, kids may luck out when firefighters "accidentally" spill a cup of dimes across Heritage Square. Then the scramble is on, and more chances for fish to be won.
The fish pond opens at Heritage Square on July 1 and goes through 5 p.m. on July 4, as firefighters need to pack up to head to their next event: running the evening's fireworks show at the high school football field.
"It's exciting for these kids," Beckman said. "It's a big thing for them. And it's a good thing for the community."