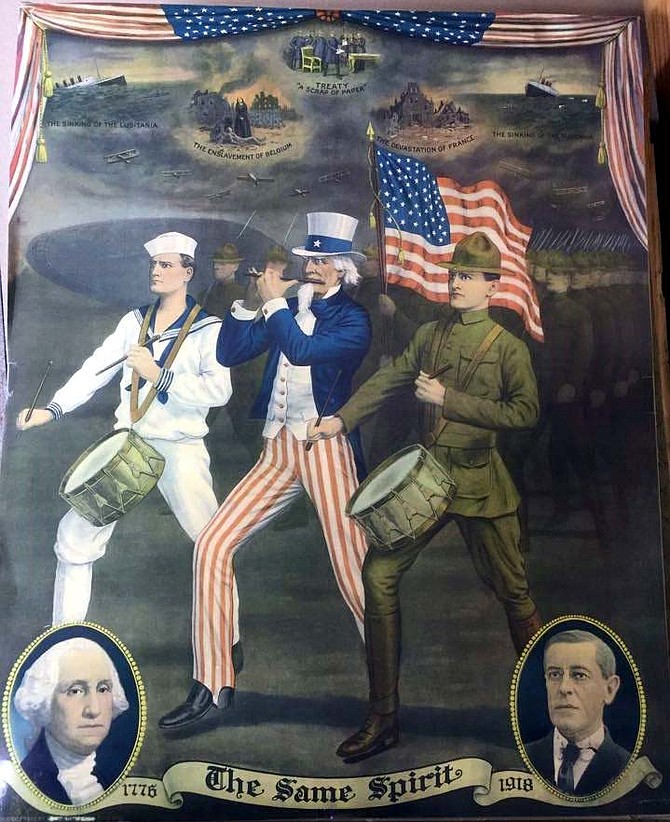 Photo by Lorie Palmer
The society will have for sale a 16-by-20 inch frameable print of "The Same Spirit" poster
GRANGEVILLE — To begin commemorating the sinking of the Tuscania, which occurred in 1918, the Idaho County Historical Society will hold a griller fund-raiser in the basement of the Bicentennial Historical Museum July 4, 1-5 p.m.
Hamburger dinners will be available for $8 per plate while hot dog dinners will be $6. This will include sides, chips and a beverage.
The society will also have for sale a 16-by-20 inch frameable print of "The Same Spirit" poster (see photo) for $15 ($14.15 plus 85 cents tax).
"The purpose of our project is to honor our veterans from UUI, but it is also to present something new and exciting, to get everyone involved in the historical society," explained member and volunteer, Floyd Whitley of Cottonwood.
Whitley explained an original poster was purchased and the society has now made prints. Money raised will help cover the cost of a Tuscania Survivors Association medal that was presented to the crew and captain of the HMS Mosquito for their lifesaving efforts to American citizens.
"There is a great history of the Tuscania here because quite a contingent of Idaho County men were aboard as part of the U.S. Forestry regiment," Whitley explained.
A larger commemoration is planned for the anniversary year in 2018.
"We hope to make some money through selling the print and hosting the griller so we can continue with this and other projects," added volunteer Clyde Hanson.
The poster will be on sale continuously at the museum and the Idaho County Veterans Outreach Center.