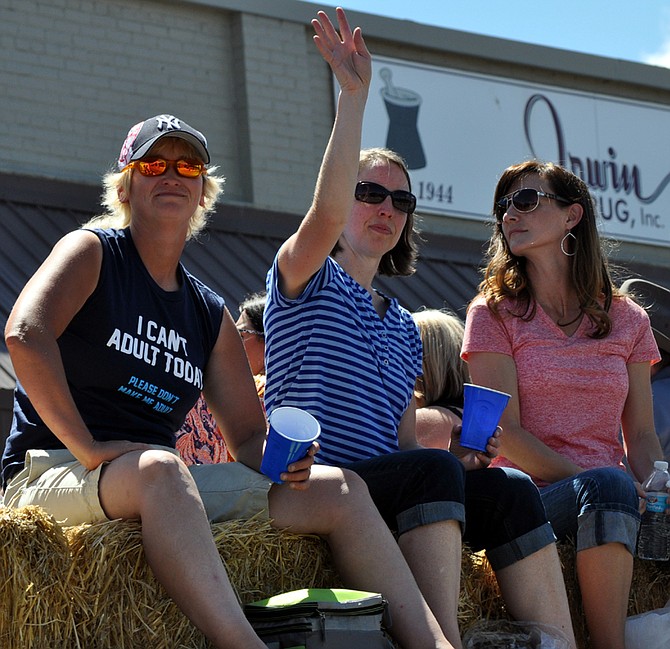 Photo by David Rauzi
Members of the Grangeville High School class of 1996 on a float in the 2016 Border Days parade.
GRANGEVILLE — A variety of high school reunions are set for the Border Days Fourth of July weekend including the following:
• Grangeville High School's class of 1957 will celebrate its 60th reunion Sunday, July 2, 4 p.m., at The Gallery. Cost for the meal is $20.
For questions call Linda Luehrs Dial at 790-1350 or Janice Inghram at 983-0616.
• GHS' class of 1987 will celebrate its 30th reunion during Border Days this year.
The group will take a jet boat trip on the Snake River Saturday, July 1, 8 a.m. to 4 p.m.
Sunday, July 2, they will meet at 1:15 p.m. at Baker Truck Service (218 North C Street) to be in the 2 p.m. parade. Following the parade Sunday, a casual no-host dinner will be held at Red's River Cafe in White Bird, 105 River St., at 5 p.m.; families welcome.
For details see the GHS Class of '87 30th Reunion page on Facebook or call Melodie Hazelbaker Worthington at 866-7236.
• GHS's class of 1997 will hold its 20th reunion activities during Border Days as well. The group will take a rafting trip out of Riggins at noon on Sunday, July 2, with Mountain River Outfitting.
Monday, July 3, they will have a float in the parade, followed by a 5 p.m. get-together at The Gallery.
For questions contact Matt Jessup at 983-3089 or e-mail matt.jessup@gmail.com.
• The Annual All School Reunion for Grangeville High School will be held following the parade, Monday, July 3, at the Grangeville Gun Club. Bring a beverage of choice and any snack to share. For details see the Facebook page "You know you grew up in Grangeville Idaho if …."