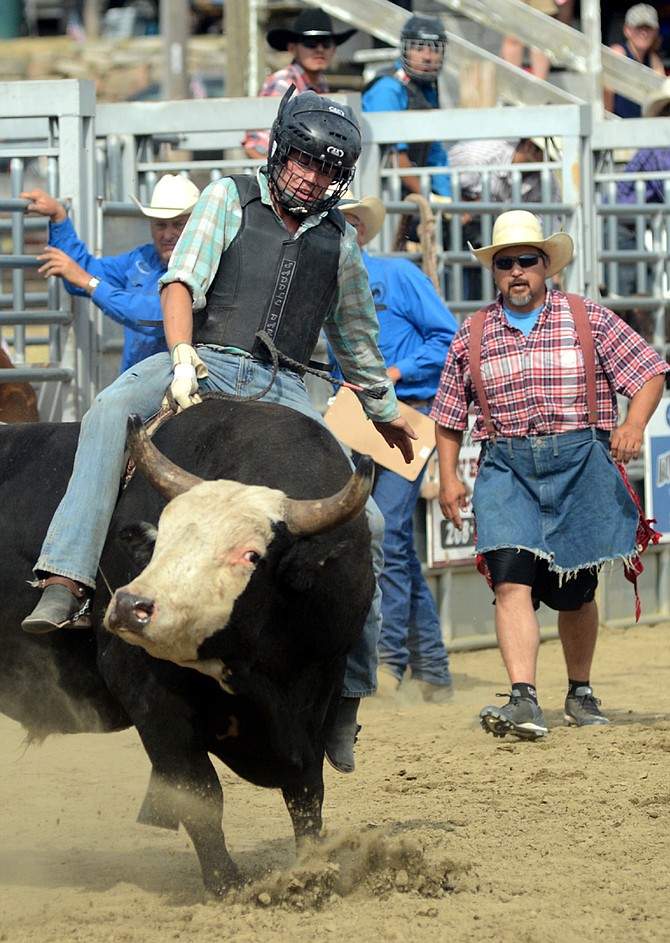 Photo by Andrew Ottoson
Bull rider in the 2015 Grangeville Border Days Rodeo.
GRANGEVILLE — The Grangeville Border Days Rodeo is Saturday through Monday, July 1-3, presented by Les Schwab Tire Centers, Gortsema Motors and Asker's Harvest Foods.
Rodeos start at 6 p.m. each day. Admission is $12, age 12 and over; $5 under age 12; and under 6 free.
Rodeo slack is 10 a.m., July 1, free admission.
What is slack rodeo?
This is for contestants who are not able to compete in the normal rodeo because the performance is full, meaning there are 12 contestants in the event. They are able to compete with the contestants in the performance and their score counts for the prize money available.
•
The Border Days Rodeo is sanctioned by the Idaho Cowboys Association, Pro-West, and NPRA. Rodeo stock is by Gold Buckle Rodeo, Roosevelt, Wash. This year $13,800 in added money plus entry fees.