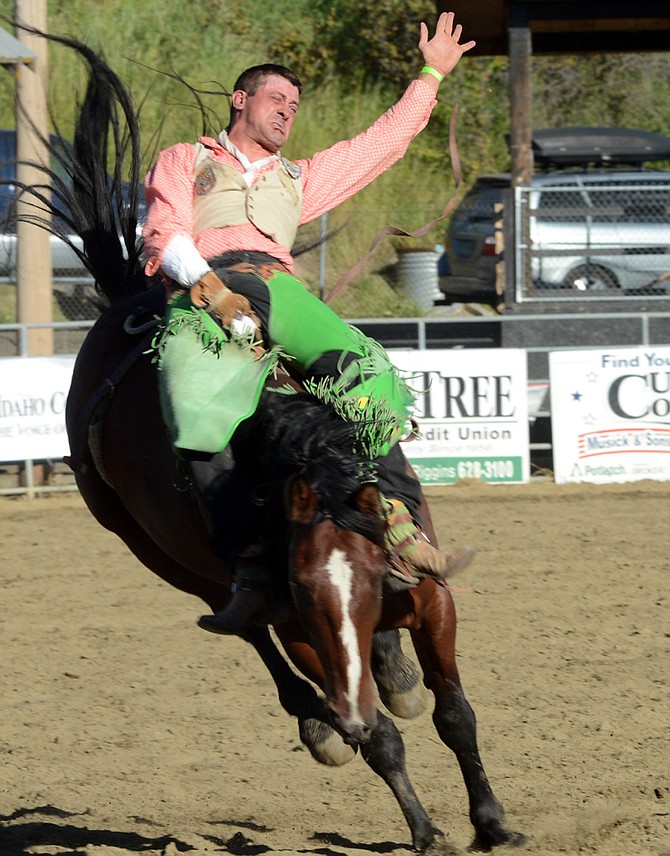 Photo by Andrew Ottoson
Saddle bronc rider in the 2016 Border Days Rodeo
GRANGEVILLE — The 106th Grangeville Border Days is July 1-4 (Saturday through Tuesday), with each day loaded with events.
Border Days Rodeo July 1-3
The Grangeville Border Days Rodeo is Saturday through Monday, July 1-3, presented by Les Schwab Tire Centers, Gortsema Motors and Asker's Harvest Foods.
Rodeos start at 6 p.m. each day. Admission is $12, age 12 and over; $5 under age 12; and under 6 free.
Rodeo slack is 10 a.m., July 1, free admission.
Of the three-day rodeo, Sunday, July 2, is Family Night: parents and their minor children get in for $30, "No alcohol seating" is available. Monday, July 3, is "Pink Out The Stands!" Cancer Awareness Night -- for every person who walks into the rodeo wearing pink, the Grangeville Border Days Committee will donate $1 dollar to a local cancer fund.
During the rodeo, all three days: chicken scramble for kids ages 6 to 12; the wild horse race where fastest time overall three rodeos wins buckles and added money; and the wild stick horse race for kids ages 6-8 with the fastest time over all three days wins a buckle.
The rodeo is sanctioned by the Idaho Cowboys Association, Pro-West, and NPRA. Rodeo stock is by Gold Buckle Rodeo, Roosevelt, Wash. This year $13,800 in added money plus entry fees.
EVENTS
---
PARADES: The 2017 parade theme is "Wild Roots of Country." Parades are Sunday through Tuesday, July 2-4, starting at 2 p.m. each day. The Kiddies Parade is Tuesday, July 4, at noon (sign up at the Idaho County Courthouse parking lot).
LIVE MUSIC: Live music follows all three rodeos. Admission is free. On July 1 and 2, Coltrain of Lewiston will perform. On July 3, Vintage Youth of Grangeville will perform.
STREET SPORTS: July 2, 3 and 4, Main Street, 9 a.m., featuring the Super Egg Toss.
TOY SCRAMBLE: July 3, on Main Street following Street Sports, for ages 6 and younger.
COWBOY BREAKFAST: Masonic Temple Lodge at Main and Hall Streets, July 2nd, 3rd, 4th from 6 to 11 a.m. Lodges Nos. 9 and 87.
GENEALOGY OPEN HOUSE: Idaho County Genealogy Society will have an open house on July 3, 1-4 p.m., 111 S. Idaho Street across from the courthouse.
ART IN THE PARK: July 3, 10 a.m. to 6 p.m., and on July 4, 10 a.m. to 4 p.m. at the City (Pioneer) Park.

SYRINGA HOSPITAL FOUNDATION BORDER DAYS FUN RUN: July 4 – Sign up at Main Street and West North St. in the Umpqua Bank parking lot at 6:30 a.m. Race at 7:45 a.m.
BICENTENNIAL MUSEUM: Open July 2nd, 3rd, and 4th, 1 to 5 p.m.
OLD TIME FIDDLERS: July 4, 11 a.m. to 1 p.m. in the pavilion at Pioneer Park.
WALKING TACOS: July 4, 10 a.m., City Park.
OLD-FASHIONED STRAWBERRY SHORTCAKE: July 3, City Park, 10 a.m. to 2 p.m.
CAMAS PRAIRIE CRUISERS: car show next to city park on Sunday, July 2, 9 a.m. to 3 p.m.
FIREWORKS: July 4, 10 p.m., Grangeville High School football field.