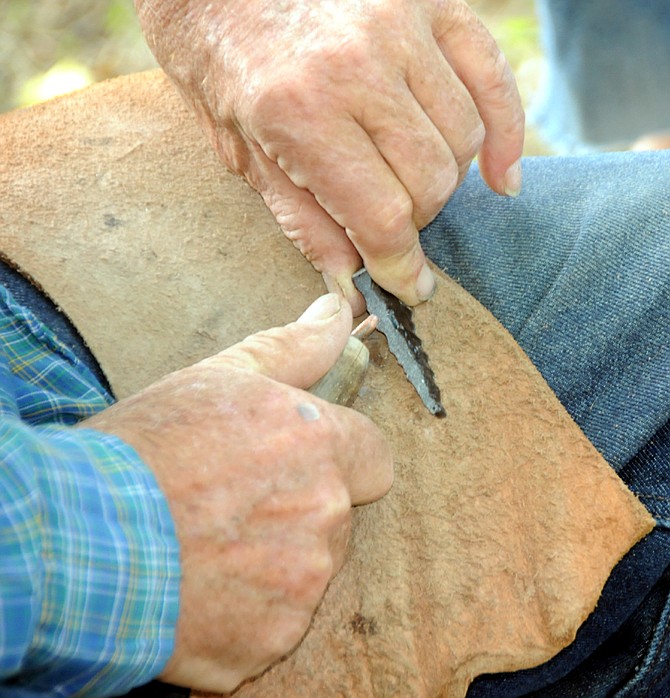 Photo by Lorie Palmer
Flint knapper Bruce Cibar will be another highlight of the Bicentennial Historical Museum's event program.
GRANGEVILLE — The Bicentennial Historical Museum will again host its open house celebration during the Fourth of July.
This year the museum will feature a display on antique tools. The museum, located at 305 N. College Street, will be open July 2, 3 and 4, from 1 to 5 p.m.
Tools are on loan from several in the community, including Bruce Dreher of Slate Creek, Scott Scribner of Grangeville and Vernon Agee of Kooskia.
"Mr. Agee will be here on July 4 to talk about his tool collection and explain items to people who stop by," said museum manager, Pam Northcutt.
Agee's daughter, Chris, is a longtime museum volunteer who nearly always helps out at the facility on the Fourth.
"Of course, we will also have our regular displays available for the public," said Northcutt. This includes a variety of mining equipment, beaded American Indian work, the old Greencreek switchboard, old canisters and bottles, uniforms, a plethora of photos and early sewing machines and toys.
A special current display includes a bronze piece, the G.A. Geherty Trophy, presented by Calgary Power Company to North America Bucking Horses Riding Champion in 1939 to Guy Cash of Grangeville. This was awarded at the Calgary Stampede.
Cash was a famous area cowboy for nearly 20 years and his story is displayed next to the bronze award which is a cowboy on a horse.
"We also have quite a display of old tools that belong to the museum that we don't want viewers to miss," Northcutt added.
In addition, the acoustical music duo the SyndiCats will perform Tuesday, July 4, in the basement, 3 to 5 p.m. The group has been performing in the Clearwater River region restaurants, area coffee shops and for benefits for many years. They bring harmonicas, wood and steel guitars, cello, banjo, Cajon and numerous rhythm instruments to favorite tunes.
The group consists of John Henderson and Pete Northcutt who have also invited former area resident George Conover to help them on the bass guitar. The show is free; seating is limited.
Another highlight of the museum program will be flint knapper Bruce Cibar. Cibar makes arrowheads and other sharp stones by chipping away, or "flint knapping" material.
"This is always popular with the kids and they can sit and do it with him for free – he charges a nominal fee if they want to take something home," Pam Northcutt said.
Parking is available in the lot or on the street. The building has air conditioning and bathrooms available for public use.
Call the museum at 983-2573.