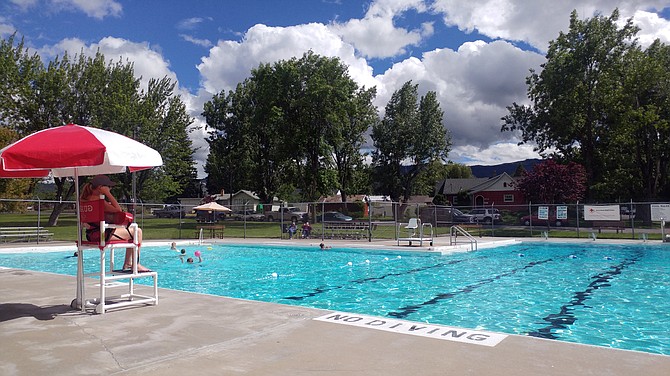 Photo by David Rauzi
Grangeville City Pool, located at Pioneer Park on East Main Street.
GRANGEVILLE — Join in the 2017 parade entries July 2, 3 and 4
Grab a float, a bike, a horse or your best pair of walking boots and join in the 2017 Border Days parade, set for Sunday, Monday and Tuesday, July 2, 3 and 4, 2 p.m. each day.
This year's theme is "Wild Roots of Country." To enter the parade, call Tanner Maynard at 451-1003 or Justin DeFord at 816-3580. The parade entry form may also be printed from the website www.grangevileborderdays.org.
The Kiddies Parade is set for Tuesday, July 4, noon. Sign up in the Idaho County Courthouse parking lot beginning at 11 a.m.
Wild Stick Horse Race added to rodeo schedule
New to this year's rodeos will be the Wild Stick Horse Race. Children ages 6 – 8 years old will ride a stick horse and have a race during the rodeo. This is limited to 15 kids who sign up for all three nights. The fastest time during all three days will win a buckle sponsored by Farris Transport of Grangeville. The same 15 children will compete all three days at the rodeo. A $5 per entry fee is required. Contact Amy Farris at 507-0487 to sign up. All proceeds will go to the Border Days Royalty Court for help with expenses incurred as they represent the Border Days Rodeos.
Fiddlers to play July 4
The Old Time Fiddlers will play at Pioneer Park in the pavilion Tuesday, July 4, 11 a.m. to 1 p.m.
Fun run is July 4
The Syringa Hospital Foundation Border Days Fun Run ("Firecracker" fun run) is set for Tuesday, July 4.
Registration will be in the Umpqua Bank parking lot starting at 6:30 a.m. The race starts at 7:45 a.m. Details on the new route on page 7 of this special section.
Proceeds from the race will help fund community projects including the annual Holiday Senior Luncheon.
Show and Shine to be held Sunday, July 2
The Border Days Show and Shine, sponsored by the Camas Prairie Cruisers, will be held Sunday, July 2, across the street from Pioneer Park. Sign-ups begin at 8 a.m., and the show is 9 a.m. to 3 p.m. Admission is free. For questions call Annelle at 983-2333.
City Pool open July 1-3, closed on Fourth
The Grangeville City Pool at Pioneer Park will be open its regular hours Saturday, July 1, and Sunday, July 2: 1 to 5 p.m., as well as regular hours on Monday, July 3, closing early at 7 p.m. that night. The pool will be closed July 4.