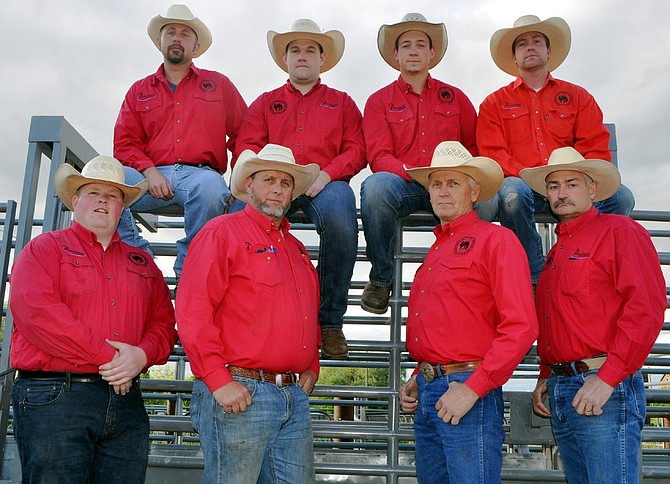 Photo by David Rauzi
Members of the 2017 Border Days Committee: (L-R) top - Scott Winkler, Wade Peterson, Tanner Fogleman, Tanner Maynard; bottom - Justin DeFord, Gary Canaday, Brad Arnzen and Jim Fogleman. Not pictured - Scott Eldridge, Kevin Greig, Shaydn Wassmuth and Anna Wren.
Committee positions, service
Scott Eldridge, president, 11 years; Tanner Fogleman, secretary, 5 years; Scott Winkler, treasurer, 14 years; Brad Arnzen, 30 years; Kevin Greig, 19 years; Tanner Maynard, five years; Gary Canaday, four years; Justin DeFord, three years; Wade Peterson, three years; Shaydn Wassmuth, two years; Anna Wren, royalty advisor, two years.
GRANGEVILLE — Welcome cowboys and cowgirls! It is with great pleasure I welcome you to the 106th annual Grangeville Border Days Celebration and want to wish you a happy 4th of July. My name is Justin DeFord and this is my third year on the Grangeville Border Days Committee. The committee and I have been working very hard preparing to make this event happen.
This year our grand marshal is a local area rancher, Mr. Melvin Gill of Lucile. Along with him to help us lead this event is our royalty. We have Queen Rachael Stevens and Princess Micaela Farris, both of Grangeville.
This year is going to be a similar schedule to last year. The rodeos are going to be July 1, 2 and 3, all at 6 p.m. We have two theme nights this year at the rodeo. Sunday, July 2, will be family night, there will be a "no alcohol" seating section available. On Monday, July 3, it's a "Pink Out the Stands" night. The committee is raising money to support the local cancer charities. For everyone wearing something pink the committee will donate $1 to the local charity.
The parades this year will be July 2, 3 and 4, all at 2 p.m. After all three rodeos, we will have live music immediately following the rodeo at the rodeo grounds. On Saturday and Sunday night we will have Coltrain from Lewiston. On Monday night, we will have Vintage Youth from Grangeville. The Super Egg Toss and street sports will be at 9 a.m. on parade days. On the Fourth of July, we will have the amazing fireworks on the Grangeville High School football field at 10 p.m., sponsored by the Grangeville Fire Department. There are many things to do in between the time of the parades and rodeos. Be sure to check out the venues and businesses in town.
•
It is with heartfelt pleasure that the Grangeville Border Days committee and I have named this year's local team roping in memory of Lee Woods. The Lee Woods Memorial Local Team Roping event will have a buckle sponsored by the Woods family in honor of Lee. Lee tragically lost his life last September at his ranch while doing what he loved to do. He entered the local team roping for as long as they've had it at the Grangeville Border Days. Before that he entered the bronc riding. Lee was also a pickup man when Deward Gill had the stock here.
On behalf of the Grangeville Border Days committee, we would like to wish Brad Arnzen a huge thank you for all his hard work as it is his 30th year on the Grangeville Border Days Committee.
•
To see a full list of events going on in town check out all the events on the Grangeville Border Days website: grangevilleborderdays.org. Also check us out on Facebook!
I hope to see you all at this wonderful celebration; come support the cowboys and cowgirls taking part in this event and Cut 'Em Loose!