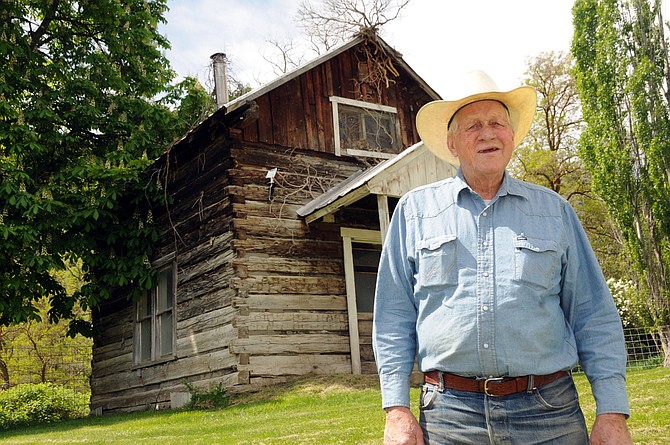 Photo by Lorie Palmer
Melvin Gill is the Border Days Grand Marshal for 2017. He is seen here at his home above Lucile on Cow Creek.
COW CREEK — Climbing up a winding road on Cow Creek from the small town of Lucile and into the Salmon River mountains, located on a strip of land that runs between the Snake and Salmon rivers, sits the Gill Ranch.
"I've been here all my life," smiled Melvin Gill.
That lifetime has spanned nearly eight decades, but the Gill family has been in Idaho County for five generations.
Melvin Gill is the Border Days Grand Marshal 2017.
Although Melvin recognizes the distinction is an honor, he also doesn't feel special in his endeavors.
"I wouldn't want any other life, though," he admitted. "It hasn't been easy, but ranching is always what I wanted to do."
•
Born to George and Opal (Robinson) Gill Nov. 21, 1939, in Grangeville, Melvin Clark Gill was raised on the ranch he still calls home.
As a child, he and his older brother, Deward, lived and worked the ranch life.
"I was riding horses with my mom when I was tiny – that's how long I've been in the saddle," Melvin smiled.
Melvin worked with horses and steers, and rodeoing was a part of his family's life early on. He was a junior steer riding champion, and he also broke horses. He and his brother attended Cow Creek School for many years, then later went on to school in Riggins.
"We would ride our horses down to Lucile to catch the school bus to Riggins," he recalled. "We'd leave the horses in a barn in town." Although his parents owned an old pickup, he said that was rarely used for everyday needs.
Melvin said he usually had a colt to break so that ride was good for that process.
"The first time I got paid for breaking a horse, I was 10 or 11," he recalled. "I still remember that as I was paid with a nice pair of spurs."
He continued to rodeo and work but also played basketball in high school.
"I was pretty good and some people wanted me to go on to college and thought maybe playing ball would make me want to go," he said. "But I told my parents it would be a waste of their money. I knew what I wanted to do, and what I wanted to do was ranch."
Melvin had met Margaret "Midge" Lea Nelson at Salmon River High School and the two married June 4, 1961. She had grown up in Riggins, working in the motel and grocery store industries since the age of 12.
"I wouldn't say I'm a cowgirl," she laughed. "I would be a fraud to say that."
However, Midge dug in and became an integral part of the ranch, assisting her husband and spending months at a time at their Kirkwood Cow Camp eight miles from their home. At the time, she also worked full time at the Lucile, then Riggins, post office.
At the time, the ranch ran less than 200 head of cattle. A land exchange allowed the family to obtain acreage adjacent to their ranch on Cow Creek and they now run about 600 head.
A Forest Service allotment allows the Gill cattle to graze on 29,185 acres.
When his parents' health failed, and they eventually died at young ages, Melvin took over the ranch full time, though he spent many years working at other jobs, as well.
"Whatever we needed to do to pay the bills," Midge added.
This included work as a logger for a few years, working for Bud Wilson's Hells Canyon sheep ranch for a decade during his "spare" time, and horseshoeing year-round.
The Gills did have the help of Melvin's grandfather, Henry "Clark" Gill, who lived just short of his 102nd birthday.
"He was helping brand calves when he was 96," Melvin shook his head, smiling.
Melvin and Midge raised two children -- son Marty and daughter Shelley -- on the ranch, continuing the rodeoing way of life. The family calf-roped and team roped, and Melvin also rode saddle bronc through the years.
Marty went to high school rodeo nationals twice and both he and Shelley played basketball and Marty also played football at Salmon River.
"We went to a lot of games," Midge recalled.
All this in-between running the ranch which included the never-ending work of calving season.
"If we went on vacation, it was a working vacation – to a rodeo," Melvin said. He and his brother owned a stock business for years, and even when he was no longer part owner, he still helped provide the stock for local rodeos, including Border Days, and also worked for many years as a pickup-man at rodeos.
Melvin and Midge do recall one trip they took for 10 days where they traveled to Canada and attended the Calgary Stampede.
"When it started to rain, it was such a good feeling that I was not required to be out there in that," Melvin smiled. "I have been in rain, sleet, snow, wind, hot sun. But that one time I could just walk away."
The Gills were the Idaho-Lewis County Cattle Association Cattle Family of the Year in 2012.
Today's ranch looks a lot different than he ever thought it would, Melvin said.
For one thing, health issues and age for he and Midge have made it so his daughter, Shelley, and her husband, Garret Neal, "do the majority of all the work," he said.
"It's a big job and they need more help –I could pay someone to fix fences and stay at cow camp and they'd have work all year," he shook his head. "But it's hard to find good help; people who want to stay and work."
Another change has been the use of machinery.
"If you would have told me 20 or even 10 years ago that we would be using four-wheelers all over this ranch to do more work than we would do with horses, I would have told you, 'you're crazy!'" Melvin stated.
Now, however, that's exactly what has happened.
"It's more economical and time efficient," said Midge.
A sadness swept over Melvin's face as his brow furrowed.
"But it's a little hard on an old cowboy's pride," Melvin said. "It's hard to say there are real cowboys nowadays when we don't use horses much."
Son Marty has two grown sons and lives in the Parma area and works for AgriBeef.
"He helps us here whenever he has free time, and we put cows down on his property part of the year, so he's very involved," the Gills reported.
Melvin said he's honored to be chosen as Border Days grand marshal.
"Like I said, if I could go back, I may adjust a few things. I knew getting into this lifestyle I would never be a millionaire," Melvin's eyes gleamed. "But I would do this ranch life all over again, no regrets."