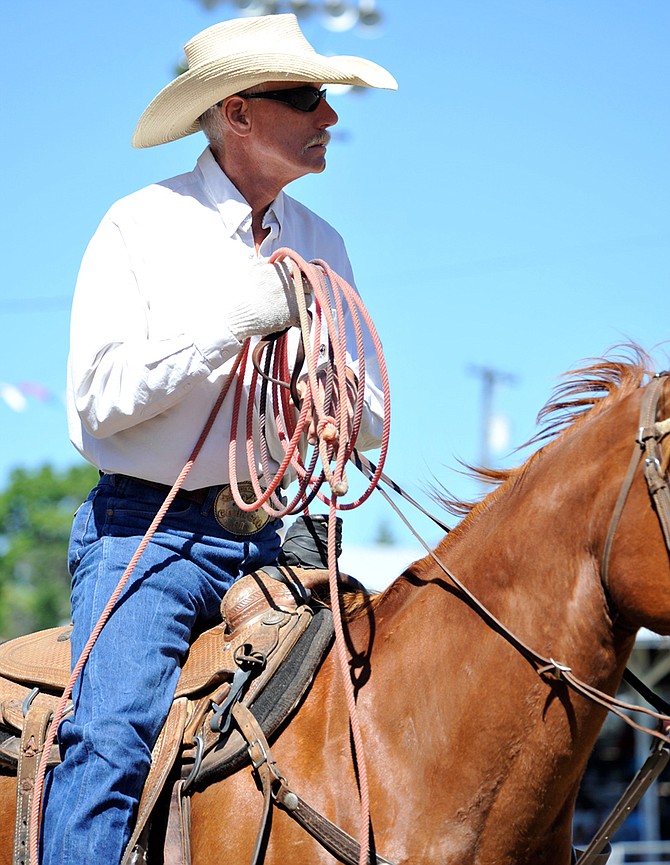 GRANGEVILLE — This Border Days, local rodeo organizers are marking the passing of one of the men who helped make it go for many years, where the local team roping event will bear his name.
"It means a lot," Mackie Woods told the Free Press of the Border Days Committee's decision to put Lee Woods' name to the event this July 1-3. "He loved to be a part of it, his friends always entered it, and he was always so happy to do what he loved with the people he loved. It'll feel a bit more special, and like he's still there."
Woods grew up in Grangeville and, with his wife, Annie, started his family in southern Idaho. The family moved to Grangeville in 1998. Woods worked as a pick-up man with Deward Gill's rodeo stock outfit.
Woods handed down the rodeo life to his son, Dace, and daughter, Mackie.
He taught his children to rope, and he entered events in Lewiston and Kamiah together with his children. Dace has gone on to join the pro circuit and compete in events such as the World Series of Team Roping. He and his wife have won the Border Days team roping a couple of times, and he and Ty Sturz are on the draw for the July 2 rodeo this year.
"We would enter anywhere we would be together," Mackie said. "That was his favorite thing in the world, spending time with his kids and his horses. He roped with my brother until he started doing the bigger rodeos, and I was in my early 20s when he and I started roping, because I was off at college."
Woods' own college experience launched his rodeo life.
"He didn't grow up around horses," Mackie said. "He got dared to get on a bronc and he got hooked. He started riding saddle bronc, then he approached Deward about the rodeos. Deward had a lot of rodeos, and he did whatever he could to help Deward."
A saddle bronc riding accident in 1986 ended Woods' days of competing in that event, but his work with Gill led to picking up during various rodeos.
There was always a special place in his heart for Border Days.
"We would come up from Horseshoe Bend or Sweet every Fourth of July," Mackie said. "We spent every Fourth of July here, because this is the town where he grew up."
Dace, she said, would help out the clown, and the family would pitch in however they could.
"I would carry a flag, and the three of us would ride in the parade," she said.
When things changed for the rodeos, things changed for Woods.
"When Deward didn't have the rodeo any more, there was no reason for him to do it," Mackie said. "He stayed involved [with the sport]. He would judge the high school rodeos and would always do whatever he could to help people be part of it. He enjoyed helping the kids learn how to rope and with horsemanship skills, things like that."
The family stayed involved, too.
"We stayed involved entering the local team roping," Mackie said. "The Fourth of July has always been a family weekend. It was my dad's favorite weekend of the year."
Woods died in a horse accident last September.