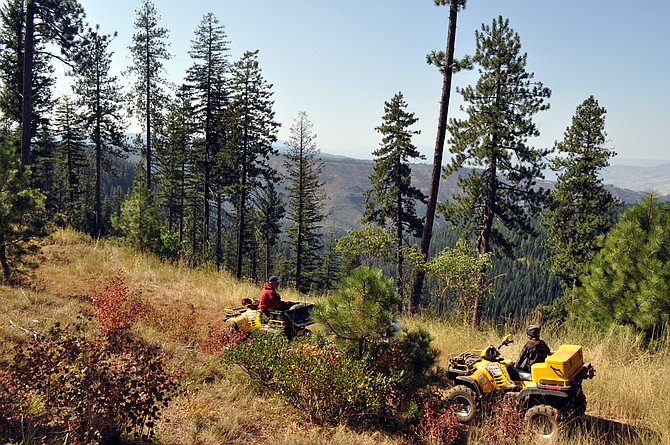 Photo by David Rauzi
Four-wheeling above Fish Creek
Probert's next tough decision: vehicular traffic
A plan to govern vehicular traffic on the former Nez Perce National Forest – from the biggest RVs to the lightest mountain bikes – will soon be signed off by Nez Perce-Clearwater National Forests supervisor Cheryl Probert. She issued a proposed decision last year and has been working "to resolve objections from some groups through compromise."
But her final decision, expected this July, is sure to disappoint some people.
"I think the critical thing to note with travel planning is that these are some of the hardest decisions for a land manager to make," Probert told the Free Press in a June 25 e-mail. "There is no way to avoid affecting personally how some people use and enjoy their national forests. When weighing impacts of different uses on the natural resources, I also weigh those impacts against the value of people having opportunities to enjoy their forests in the way they want. Sometimes what the resource needs and what a particular user group wants are in conflict. At those times, I need to make tough choices that impact people or resources. I understand that and I don't make those choices lightly. And on a landscape as large as the Nez Perce-Clearwater, we also know that we will have to make adjustments to the travel plan in the future. That is expected and is part of the process as we implement this and future projects."
The Nez Perce-Clearwater National Forests have fended off another lawsuit in federal court, with United States District Judge Edward J. Lodge recently ruling in the combined forests' favor on a case Idaho and Clearwater counties brought four years ago.
The Clearwater Travel Plan – which closed 200 miles of trail to motorized use – has been under litigation since 2012. But because none of the lawsuits or court orders required the Forest Service to undo it, forest supervisor Cheryl Probert said people will not see practical differences, "because we have already been implementing the decision."
"We are, however, working on updating road and trail access signs and continually work to manage our closures," Probert noted via e-mail June 25.
Seasonal gates are currently open for the summer season and will close Sept. 15.
On the former Clearwater National Forest, winter and summer travel are presently being managed under former forest supervisor Rick Brazell's 2012 decision, which stands to be updated under a proposal Probert put forward in 2016. Probert proposed not allowing motorized use in the Clearwater's recommended wilderness areas, "except for summer motorized access on the Fish Lake Trail," she explained. "We received several objections to that proposed decision and are working to address the objections."
In 2015, Friends of the Clearwater sued the Forest Service over the Clearwater travel plan and Probert's office is still working on addressing the court's finding in that matter: that the Forest Service did not show enough of the steps it took regarding elk habitat protection, which is required under the 1987 Clearwater forest plan.
This July, Probert anticipates signing off on a travel plan that will cover the former Nez Perce National Forest area. Probert issued a proposed decision, known as DRAMVU, last fall. Objections filed over that decision have led to discussions "to resolve objections from some groups through compromise," Probert wrote. "There are a few changes to road and trail access based on these discussions."
The combined forests are developing a new forest plan, on which there is a nine-field interdisciplinary team (IDT) working full time, and for which the IDT has been meeting with individuals and groups regarding specific resource issues. Probert said there are upcoming collaboration opportunities "both in person and using new technologies" as the forests develop the alternatives.
IDT contact information is online:
https://www.fs.usda.gov/detail/nezperceclearwater/landmanagement/planning/?cid=stelprdb5447338.
"We expect to have alternatives developed for internal review sometime during the fall of 2017," Probert wrote. "We appreciate the efforts of all our stakeholders who have been and continue to be part of this process."
Probert and the forests are aiming for the new forest plan to use "best science," and to be based on "the resource conditions we have now."
"I am looking forward to a revised forest plan which…charts a course for the Nez Perce-Clearwater to provide for sustainable ecosystems while contributing strongly to the social and economic stability of our communities," she wrote. "In the context of travel planning, the forest plan really sets the sideboards for how we manage the transportation system on the forest."
"As a result of the Clearwater Travel Plan litigation with the counties," she added, "we are also working much more closely with both Idaho and Clearwater counties as we revise the forest plan. We have meetings and discussions so that we more fully understand economic and social sustainability from the county perspective and we are developing cooperating agency agreements with the counties, state and Nez Perce Tribe."
Meanwhile, another of the Forest Service's recent litigation victories – a win for the Orogrande Community Protection Project – stemmed in part from intervention by the Clearwater Basin Collaborative as well as the state and county governments and has also given Probert's organization a boost.
"While each court case stands on its own merit, we do recognize the court's ruling on the Orogrande preliminary Injunction as an affirmation of our approach toward meeting the requirements in the Idaho Roadless Rule," Probert noted. "The real success of the Orogrande project is in how the community, county, state and federal government all have come together to do good work on the ground…and most importantly, when completed, the Orogrande project will provide our firefighters better options for protecting the public, the community and the natural resources in that area."
"From a work force standpoint, this was a very important success for the forest employees," Probert continued. "We have been working on this project for over six years and we are all pleased to see all aspects of it moving forward. The court recognized the need for the project and the professional work that went into the environmental analysis. When a court, or other stakeholders, affirm that we are doing the right work and we are doing it well, it does give a positive boost to morale."