Grangeville recycling closed July 1
GRANGEVILLE – The Idaho County Recycling site in Grangeville will be closed on Saturday, July 1, for the holiday weekend. Other sites will operate as normal.
Festival attendees are encouraged to use recycling containers for their aluminum cans and plastic bottles at the Border Days rodeo.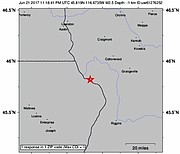 June 21 earthquake reported near White Bird
The U.S. Geological Survey reported a magnitude 2.5 earthquake at a depth of about 3,300 feet centered 18 miles west northwest of White Bird and 22 miles southwest of Cottonwood in the Snake River drainage above the Salmon River confluence — depending on uncertainty involved with the measurements.
The earthquake happened at about 5:18 p.m. Wednesday, June 21, according to USGS information.
June 29 planned outage to affect Salmon River
Idaho County Light & Power is going to have a scheduled outage that will affect the Grangeville and Salmon River areas for two hours on Thursday, June 29, from 4 to 6 a.m. ICL&P will be replacing poles in the Grangeville area.
The following areas will be affected: All ICL&P customers south and west of Grangeville in areas that include the foothills, Tolo Lake and White Bird Hill. Also, all of the Salmon River areas of White Bird, Deer Creek, Slate Creek, Twin Bridges, Doumecq, Joseph, John Day and Skookumchuck.
Roads open for access to personal use firewood
Roads are open through Aug. 30 on the Salmon River Ranger District of the Nez Perce-Clearwater National Forests for access to personal use firewood: Blue Ridge Road, Forest Service Road (FSR) 1875; Trapper Creek Road, FSR 9559; and Flat Iron Roads FSR 1809 and FSR 1810
The minimum cost for a personal use firewood permit is $20 for four cords, and the maximum is $60 for 12 cords. A list of permit vendors is online: http://www.fs.usda.gov/main/nezperceclearwater/passes-permits/forestproducts.
For info, Andrew Lane, 983-1950.