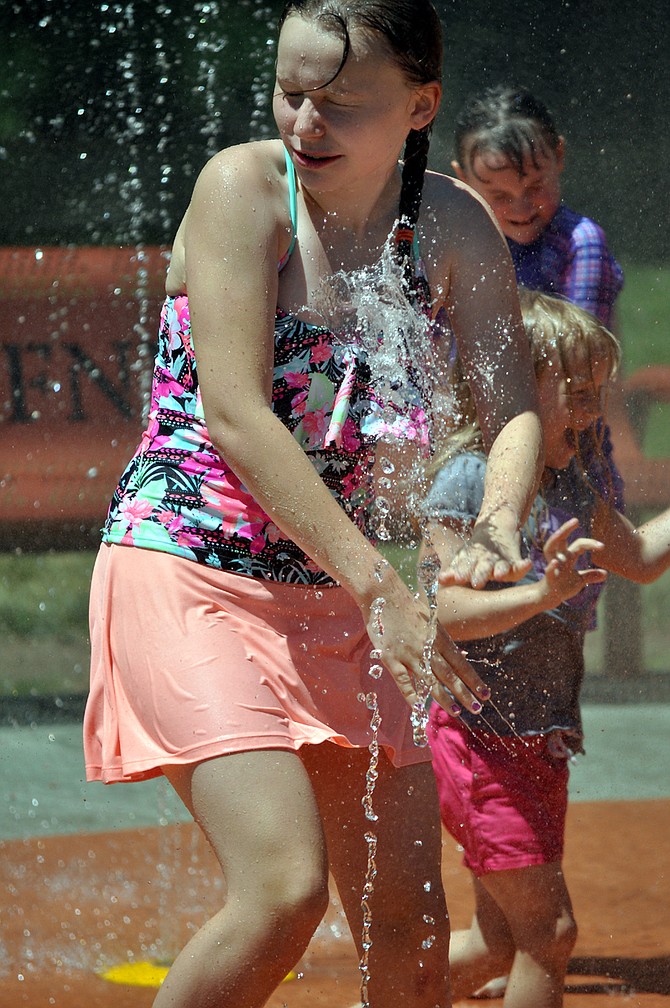 Photo by David Rauzi
Kids take in cooling jets of water at last Saturday's June 24 dedication of the new splash pad at Kooskia City Park. The facility is open 9 a.m. to 9 p.m. during the summer, weather permitting.
Photo Gallery
Kooskia Park Splash Pad Dedication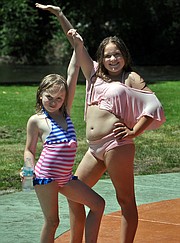 Kids take in cooling jets of water at last Saturday's June 24 dedication of the new splash pad at Kooskia City Park.
KOOSKIA — "Have a great time. Be safe," exclaimed Scott Garrett, CEO for Freedom Northwest Credit Union (FNCU), as water jets shot off at the new splash pad for more than a dozen excited bathing suit-clad kids waiting to jump in.
FNCU funded the estimated $60,000 project, the first of two for the area, according to Garrett, with the next planned for completion in Kamiah next year.
"This was a cooperative effort," Garrett said, that from its conception last fall had the complete support of the FNCU board, as well as from the City of Kooskia, notably, he continued, from the strong backing of Mayor Charlotte Schilling and public works director Kelly Frazier. On this last, Saturday's ceremony also included dedication of the pad to Frazier, who was noted for his "hard work and effective leadership are a great example to us all." A plaque marking this honor will be installed at the site.
"He really has served this community well," Garrett said.
Built by Idaho Stage Construction of Kamiah, the splash pad is activated by a touch button setting off a timed sequence of water jets evenly spaced across its surface. The project included amenities, including benches and garbage cans, and the city purchased a lamppost for the pad, which ties it into those lining Main Street.
"The credit union has been phenomenal," said Carlos Martinez, Kooskia public works, in not just its commitment and vision in providing this facility for the city, but in its service as a business to the public. The project was well thought out, he said, with FNCU including new approach sidewalks that tie the pad in with the adjacent kiosk and rest rooms and provide ADA access.
The facility will be open as weather permits, 9 a.m. to 9 p.m. Martinez said one of the biggest benefits from the pad will come during spring when temperatures are warm and the river is running high: "This will give kids a safe place to play," he said.
Cutting the ribbon for the opening ceremony was FNCU board chair Doug Warrington. The event included a barbecue for approximately 50 people in attendance.
"This was just exciting to give back to the community," Garrett said, as a way to show FNCU's commitment to serving area residents and provide a recreational facility to the public that will be a long-term benefit to Kooskia and the region.