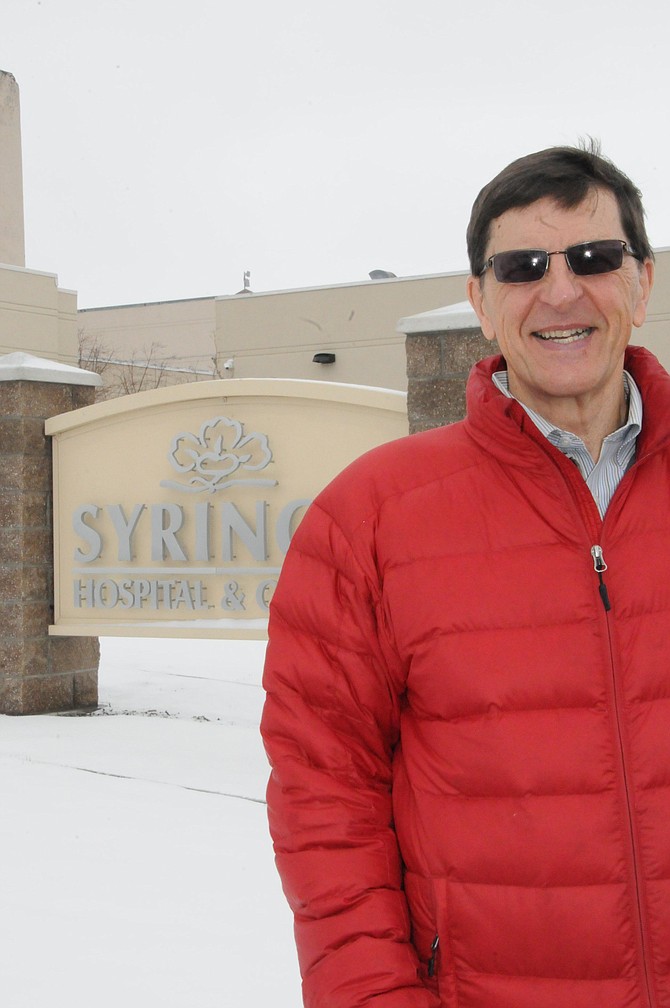 Photo by Lorie Palmer
Joe Cladouhos retired yesterday, Feb. 28, as CEO of Syringa Hospital and Clinics. He has spent 35 years in the health care field.
GRANGEVILLE — CEO Joe Cladouhos ended his nearly 10-year career yesterday with Syringa Hospital and Clinics, but that doesn't mean he is ready to leave Grangeville.
"We love it here," he said of him and his wife, Tova.
Cladouhos may be retired now, but he plans to stay involved in the community he has been a part of for the past decade.
The Cladouhos' came to Grangeville in 2007. They now own a small hobby farm where they raise some chickens and sheep and have horses.
"It's a hit when the grandkids visit," he said.
During his tenure at Syringa, Cladouhos saw the hospital through a variety of renovation projects ("We never could have done it without the Webb family donation," he said) as well as helped build a successful integrated health record system along with a stable medical staff.
"We have outstanding staff," he said. "We have a great team and wonderful group of caregivers who also care for one another.
During the past 10 years, Syringa has added 40 FTE jobs and has nearly doubled its annual gross revenue – from $10.7 million on FY2007 to $19.3 million in FY2016.
Two additional feathers in his cap include the implementation of the 340B pharmacy and the hospital's affiliation with Kootenai Health.
"The senior staff and current medical staff are incredible; they deserve most of the credit for the many accomplishments we've made as a team," he said. "I sincerely thank and offer all our staff a kindly farewell, not a goodbye."
During the past 10 years in the community, Cladouhos has served on the Pine Tree Community Credit Union board of directors and the Union Highway District board, as well as the Grangeville Chamber of Commerce and Lions Club boards. He is now a member of the Grangeville Rural Fire District board.
His immediate future plans include family activities, writing, outdoor pursuits, music, community, volunteering, travel, reading and learning.
"Those are the nine major categories in my strategic plan," he laughed.
This includes some time at the Syringa Auxiliary Thrift Store, he said.
"I can be the cashier," he chuckled. "I told the ladies I know how to do that since I worked in my dad's Green candy store and newsstand-fountain when I was 12 years old."
The Cladouhos' have three children and their fifth grandchild will be born in April.
After more than 35 years in the health care industry, Cladouhos said he is excited to be on the leg of a new journey.
"My hope for Syringa is to fully implement the affiliation agreement with Kootenai and overall, to sustain the momentum and continue the progress," he said. "I have been very lucky to be here and I am glad for the opportunity."