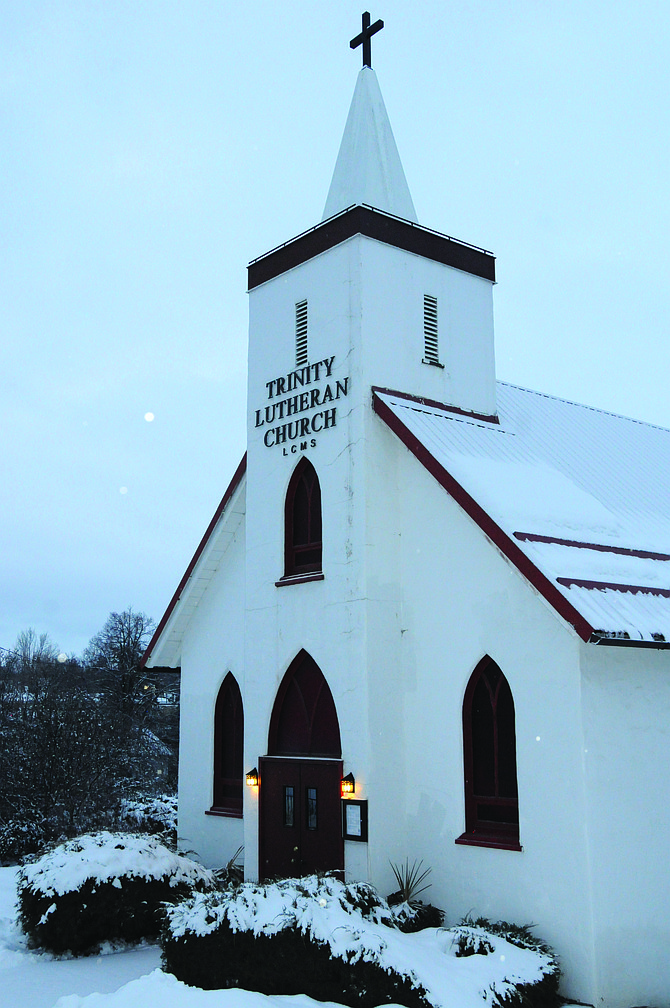 Photo by Lorie Palmer
Trinity Lutheran Church in Grangeville stands tall and proud and slightly sprinkled with snow this winter.
Public invited to March 6-9 Lenten Parish Mission at St. Mary's
COTTONWOOD – The public is invited to attend a Lenten Parish Mission on March 6-9 at St. Mary's Church in Cottonwood, featuring Catholic lay evangelist Richard Lane.
Lane's presentation, Standing on the Rock of Faith, is described as "a parish mission designed to help us transition through the desert places; to reconnect us back with God; understand what our Faith is: theologically, biblically, and personally."
The three-day event starts at 7 p.m. each evening and is presented by St. Mary's Tri-Parish Community. Lane is featured on Eternal Word Television Network (EWTN), CatholicTV.com and Catholic Radio around the world.
For information: 962-3214 or visit Lane's website: www.evangelistRichardLane.com .
Revival set for Mountain Shadows
GRANGEVILLE – A weekend revival is set for Mountain Shadows Baptist Church, 215 North C Street, March 3, 4 and 5.
Guest speakers and musicians include Gary and Judy Porter from Cowboy Church, contemporary Christian artist Jason Schuster, Pastor Mike Andrews and director of missions Lee Mowery.
The Friday night youth bash will run from 5 to 8:30 p.m. Saturday morning worship is 9:45 a.m. to noon and break-out sessions will be 1 to 4 p.m. Sunday morning with Schuster will begin at 10 a.m.
Call Pastor Vic at 451-5547.
Revival set for Clearwater Baptist Church
CLEARWATER – Revival services are set for March for Clearwater Baptist Church.
Services will be held Sunday, March 12, 11 a.m. and 7 p.m. In addition, services will also take place March 13, 14 and 15, 7 p.m., each evening. Tuesday night, March 14, is youth night, and activities will be geared toward the young people.
Rev. Michael Postell from the New Hope Baptist Church in Mansfield, Texas, will be the guest speaker. He has served as pastor there for a decade. He and his wife, Anna, have three young children.
Faith Lutheran sets activities
KAMIAH — Faith Lutheran Church is located in Kamiah at 6th and Idaho streets.
Weekly worship services are at 11 a.m., on Sundays followed by social time and refreshments. Lenten services begin with Ash Wednesday service at 5 p.m. March 1. A mid-Lenten soup and bread service is at 5 p.m. March 23.
Bible studies are on Thursdays. The men's group meets at the bakery at 7 a.m. The women meet at 10 a.m. at the church.
Call Pastor Hart at 790-4515.
Marriage seminar set for March 3, 4
GRANGEVILLE — "I thought you were happy! I thought we had good marriage," was my wife's response when I mentioned to her I wanted to attend a marriage seminar," said Don DuFrene.
"Our pastor had announced that Family Life was putting on a seminar in Coeur d' Alene and I became interested. I laughed at my wife's response and assured her I was very happy and thought we had a wonderful marriage. I wanted, however, to do all I could to make an already great marriage even better. Who wouldn't, right? Also, as a church elder, I wanted to have useful information to help others in their marriages as well," he said.
The seminar was three days long and it exceeded his expectations, he said.
A local event is set for March 3-4. "The Art of Marriage" will be held at the Super 8 Motel. It will start Friday, March 3, and will run 5:45-8:30 p.m., and Saturday, March 4, 1-7:30 p.m. (with a one-hour break for dinner 4:30-5:30 p.m.). DuFrene and his wife will be hosts to the event.
The fee is $10 per couple to defray some of the cost for the materials. In addition, Super 8 will offer a 10 percent discount to anyone staying the night for the seminar. Call 983-1002 for reservations.
To attend the marriage seminar call Don DuFrene, at 792-1662 to RSVP by March 1.
Ewing to speak at Encouragers
GRANGEVILLE —Debbie Ewing shares about recent ministry in India with Encouragers, Thursday, March 2, following the no-host luncheon at Oscar's at 11:30 a.m.
Ewing, and her husband, Pastor Brent Ewing, spent weeks focusing on meeting the needs of a single primitive village. Tapestry Ministries, founded by the Ewings, began by providing clean, accessible water for villages, but they now seek to provide for multiple needs in a single village.
Working with established Christian churches in the area, they look for ways to help children and women with educational, health and hygiene needs. As they identify needs, they inform their Christian community and together they find creative ways to meet them.
The Ewings serve Centennial Evangelical Free Church in Grangeville and also hold regional positions in their denomination.
Encouragers meet at 101 E. Main the first Thursday of each month for fellowship and the sharing of God's work in their lives. Call 983-0927.