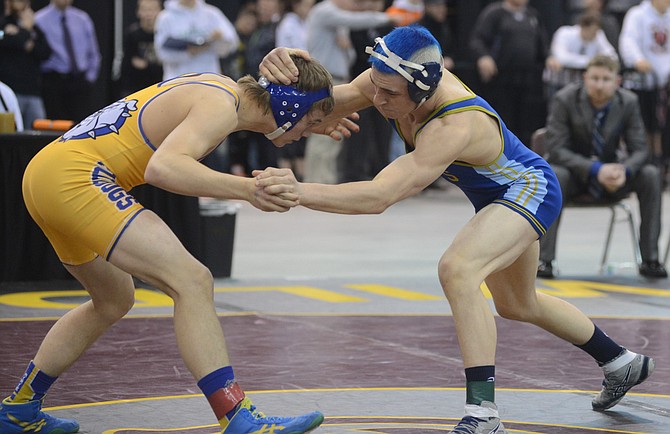 Photo by Andrew Ottoson
Grangeville senior Frankie Zumwalt won the third 2A title in Grangeville's recent wrestling history last Saturday, Feb. 25, at the Idaho Center in Nampa. Pictured, Zumwalt struck first in the 145-pound championship match, and took a 2-0 lead during the first period of the finale.
Consider the moment Frankie Zumwalt became a state champion wrestler.
An hour before competitors took the mat for the 145-pound final last Saturday, Feb. 25, Idaho Center staff rolled up and stowed all but four of the mats on which the prior 1,680 matches had run.
While all eyes were on the center floor, Zumwalt sat cross-legged on a mat-roll, totally balanced as coach Tyler Bransford stood alongside, talking light-heartedly of easy things as the lightweights tangled for their
titles: 98, 106, 113, 120 and so on.
If being a champion were just some state of mind — a moment of happiness or confidence or the calm before a storm — Zumwalt had the appearance of a man who had already won.
Earlier in the tournament, teammates, peers and competitors had their serene appearances shattered by the physical reality: someone else won.
•
No one came into Saturday morning with higher hopes or greater confidence than Clearwater Valley's reigning champion, senior Keiran Owens, whose heavyweight title hopes were dashed by Tristin Wright of West Jefferson.
Owens led 1-0 late in the semifinal. Wright took him down with a hip toss. Owens — who was gregarious and generous with his time while talking with the Free Press on Friday — appeared punctured. He went on to finish fourth.
CV junior Carson Morrow's title run flamed out in the 160 semifinal, with a 17-10 loss to eventual runner-up Kenon Brown of Potlatch. Morrow won in the medal round, and placed fifth. CV senior Taylor Roy placed sixth at 170.
Rams senior Trae Dominguez lifted CV to 10th place in the team scoring with a couple of sharp pins Friday morning. His third pin of the tournament upset Mason Hall of Marsing in the 220 semifinal Saturday morning. Dominguez finished second to top-seeded Rhett Daniels of Malad.
Prairie junior Jace Perrin took third at 182. Perrin booked a couple of pins Friday to earn a shot at eventual champion Tyler Matthews of Declo in the semifinal on Saturday. Matthews won the semifinal, but Perrin reached the consolation final by beating Brayden Dunn of Melba. He took third place with a 9-2 upset of second-seeded Challis senior Jakob Plummer.
Kamiah sophomore Mike Macmeniman's consolation run was ended by North Fremont's Jacob Pilgrim on Saturday morning.
For Grangeville, senior Tristen Bledsoe was eliminated on Friday and sophomore Noah Kaschmitter fell early on Saturday.
Kaschmitter dominated his consolation match on Saturday morning and threw his opponent around before getting caught and pinned.
•
Zumwalt looked unflappable during the build-up to his finale and proved it by shrugging off a mix-up at the scorer's table. During the second period, Zumwalt's 2-1 lead turned into a 4-3 deficit. Zumwalt regained the lead, 8-4, by scoring two for the takedown and three for the back points with almost no time left in the second.
With Zumwalt wrestling defensively during the third, Rustin Rinderknecht of Ririe couldn't find a weakness and Zumwalt, Bransford and the Grangeville supporters in the crowd erupted for his win. He called it a moment 15 years in the making.
"It's amazing," he said of that winning feeling. "I've been wrestling since I was 3 years old."
The state title puts Zumwalt in rare company. In the recent past, Phillip Walters and Shaydn Wassmuth have brought individual titles to Grangeville — a past Bransford said Zumwalt honored by choosing one of the older singlets in Bulldogs blue.