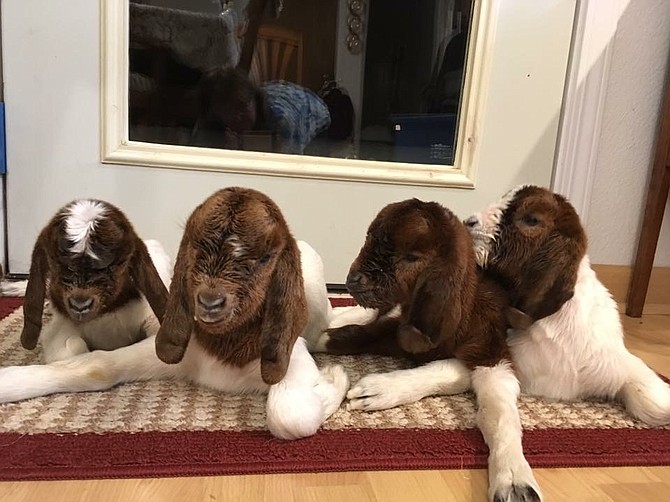 KOOSKIA — The birth of quadruplet goats caused Elayne Murphy to miss the last three minutes of the Gonzaga-BYU basketball game Feb. 2.
"We had a second set of quads born two days later," she said.
She told her husband, Pat, if the next doe had quads, "I was going to buy a lottery ticket, as does typically have two to three kids," she smiled. The next two does each had three kids.
The Murphys are currently raising two breeds of goats: Boer goats (pictured) and Kiko goats.
"We introduced the Kikos into our herd last year and don't expect to breed them until fall; however, two does did get under the fence and in with our Boer buck so it is possible we will have kids sooner than planned," she said.
The family has had goats on their property since the early 1990s.
"Our first goats were Toggenburg goats that were supposed to be used for packing," she said. "We never did get them out on the trails, but enjoyed having them around and they did a great job of eating weeds. We've had two or three goats ever since."
When Pat retired six years ago, they decided to expand their operation.
"As a knitter, I was interested in getting Angora goats for their fiber and learning how to spin," she explained. "The more we learned about that operation the more it became apparent that was going to be very labor-intensive so we opted to raise a small herd of Boer goats."
They have had the Boer goats for four years.
"They are meat goats, and the wethers are sent to market," she said. They had hoped their daughter, Davi, a junior at Kamiah High School, could raise one for 4-H; however, her allergies the last couple of years have made that difficult.
"This year we have had people inquiring about purchasing our little goats for 4-H and weed control," she added.