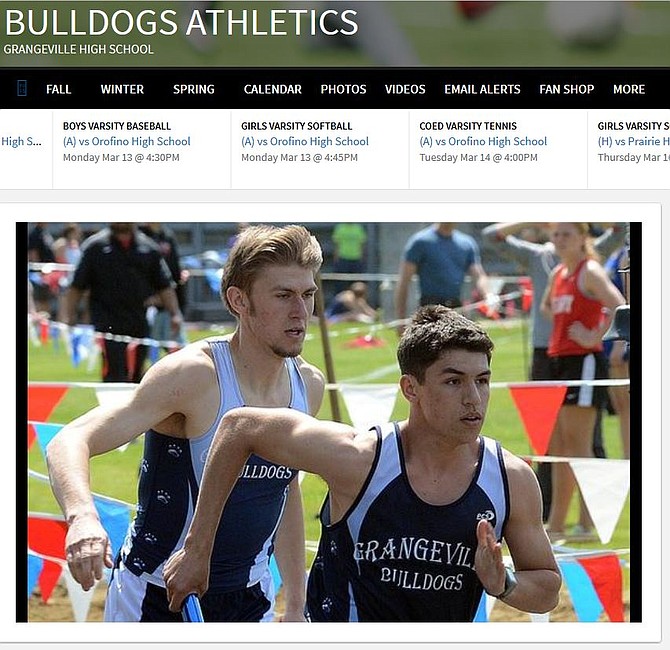 Free Press
Grangeville High School sports schedules have a new home on the Internet at ghsathletics.org, which includes a number of features that aren't being used — yet. Baseball, softball and tennis schedules could all be found there the morning of March 7. The screen capture above shows how the page appears on computers that use ad blocking software. It includes a Free Press photo of the 2015 "area best" track meet.
(This post has been updated. See the update below.)
GRANGEVILLE — A new "official website of Grangeville High School Bulldogs athletics" is now the place where the school's sports calendars are being maintained online. The clearinghouse for online schedule information previously accessed through schedulestar.com now redirects to ghsathletics.org.
The change was handed down by the service provider GHS has used to distribute sports and activity schedule information in recent years, GHS activities director Matt Dame told the Free Press Tuesday, March 7.
"It looks easier to read on the format, to me," Dame said, "but I haven't really dug into it. They told me they were moving things. It comes with our payment we make anyway. The school buys the software we use to make our schedules, and there's a lot of schools in the state that use it. It can push the schedules to Arbiter, which the refs use, so it makes for less mistakes. It's quicker and a lot easier for me to use to build schedules. And it allows people to use the new website to see the schedules much better."
The school pays $400 a year for the service, which is offered nationwide by BigTeams LLC of Warrenton, Virginia, which owns the new website. Dame said he learned the service would shift to a new website months ago.
Schedule change alerts previously delivered to fans under the ScheduleStar name are now being delivered from BigTeams.
The website has a "Fan Shop" link that connects to an online apparel store that states "apparel sales help your school."
Dame said the apparel shop purchases provide profit-sharing.
Dame said he hasn't looked at how much of a share could come back to the school or to boosters that way, and noted that the website "can go where somebody wants to take it."
The "somebody" who will eventually decide how far to go with it would be Dame and the GHS administration.
"We haven't assigned or looked into this website enough to push it out and have somebody stay up-to-date with it," Dame said. "Really all it's being used for right now is just the schedules. I really haven't thought about using it with pictures being posted to it."
•
Among its capabilities is as an advertising platform.
A review by the Free Press found no local ads are presently being served through the website, but on the night of March 6 and the morning of March 7,
ghsathletics.org was displaying third-party advertisements that present a form of computer security risk known as browser hijacking.
"That would be a risk for BigTeams," Dame said. "If they're what they say they are, one of the biggest high school athletic webpage sponsors in the country, I would think they would make sure they're not getting any goofy, inappropriate-type links."
The new website presently sets aside space for booster club records, though none is presently maintained there.
On March 7, a Grangeville Booster Club representative told the Free Press that the club had been provided no information regarding the new website before it went live; the boosters have not met the past two months, but have a meeting coming up on March 13.
In Dame's view, the new website will be "kind of cool if it gets used," he said. "I think it could be pretty cool. I just don't know how well we're going to be able to use it. Just because we're limited, as far as what I can and cannot do and how much time I have."
UPDATE: (Wednesday morning.) On Tuesday afternoon, Grangeville High School posted the following statement on its Facebook page:
Schedule Star/Big Teams Users~

As you have seen, there have been some recent changes with ScheduleStar/Big Teams website. These changes have created a better, easier to use website. GHS, however does not support the Bulldog products from this website. We encourage all our supports to buy locally through Bulldog Boosters and the Grangeville Community. Please use this website for the best up to the minute schedules.

ghsathletics.org