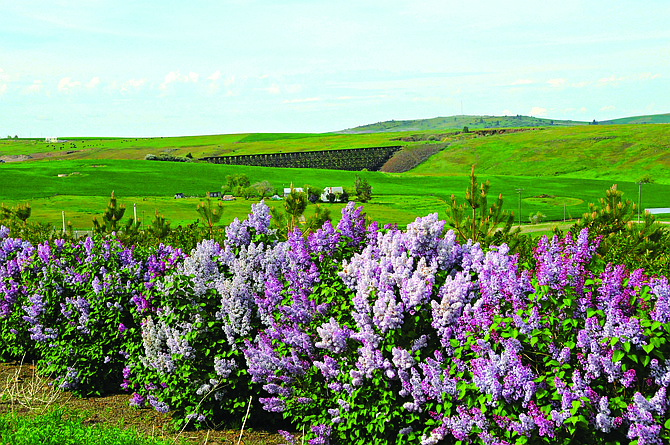 Photo by Lorie Palmer
Cottonwood's landscape adds to the aesthetic quality of its living conditions. Here, the historic train trestles can be seen looking from the parking lot of Summit Academy on Substation Road.
The National Council for Home Safety and Security recently announced their annual Safest Cities in Idaho Report for 2017.
First, a little
Idaho history:
Idaho's claim to fame lies in potatoes; however, the first potato in America was actually planted in New Hampshire in 1719. Potatoes didn't even reach Idaho until 1836. Still, Idaho produces approximately one-third of the potatoes in the United States.
As a state, though, Idaho has much more to offer. The Idaho landscape is rugged and can be wild. It's home to the deepest river gorge in North America: Hells Canyon. At 7,993 feet deep, Hells Canyon beats even the 6,000 foot depth of the Grand Canyon.
In 1805-1806, while still a part of the Oregon country and jointly owned by the United States and Great Britain, this region was explored by Meriwether Lewis and William Clark. Idaho is known as the Gem State; as nearly every type of gemstone and more than seventy-two types of precious and semi- precious stones are mined there. Idaho is also one of only two places on the planet to find star garnets — India is the other. Idaho even derives its name from a mining lie. A mining lobbyist named George M. Willing presented the name to Congress claiming that it was a Shoshone word meaning "Gem of the Mountains" and by the time they found out that it was an invented word "Idaho" had already stuck.
But enough of that trivia. What are the safest cities in which to live in Idaho?
Well, the top 10 are (in order) Weiser, Rexburg, Soda Springs, Challis, Salmon, Preston, Hailey, Spirit Lake, Osborn and American Falls.
More locally, Cottonwood came in at number 11, at 18 is Grangeville, Kamiah is at 34 and Lewiston is number 50 on the list.
To identify the safest cities in Idaho, the most recent FBI Uniform Crime Report statistics along population data was reviewed, combined with internal research. Any cities that failed to submit a complete crime report to the FBI were eliminated.
The remaining cities were ranked based on the number of reported violent crimes (aggravated assault, murder, rape, and robbery) and property crimes (burglary, arson, larceny-theft, and motor vehicle theft) per 100,000 people.
For details on the selection process see the Web site https://www.alarms.org/the-safest-cities-in-idaho-2017/ for more.