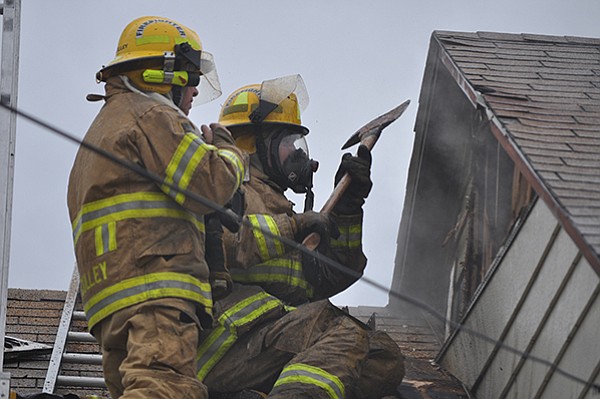 Photo by David Rauzi
Firefighters break through a roof vent for access to a fire last Wednesday, March 8, at 511 South C Street.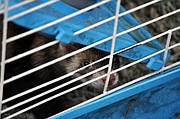 GRANGEVILLE — Damage was kept to a minimum following last Wednesday's March 8 house fire in Grangeville. Cause is believed accidental. No injuries were reported.
"We got a really fast jump on it," said Chief Bob Mager, Grangeville Volunteer Fire Department, on the fire at the Carl Salisbury residence, 511 South C Street.
Sixteen personnel and four engines responded to the 12:11 p.m. 911 call. An electrical problem is the suspected cause for the fire that burned throughout the attic, which firefighters were basically able to contain here before it could burn to the ground floor. Minimal smoke and water damage was reported to the ground floor area.
At the outset of firefighting, crews were able to save Salisbury's two dogs, as well as a ferret in a cage. No one was home at the time, and the house was insured. Crews were on scene approximately two hours.
Assisting on scene were Grangeville Police and Syringa Ambulance.