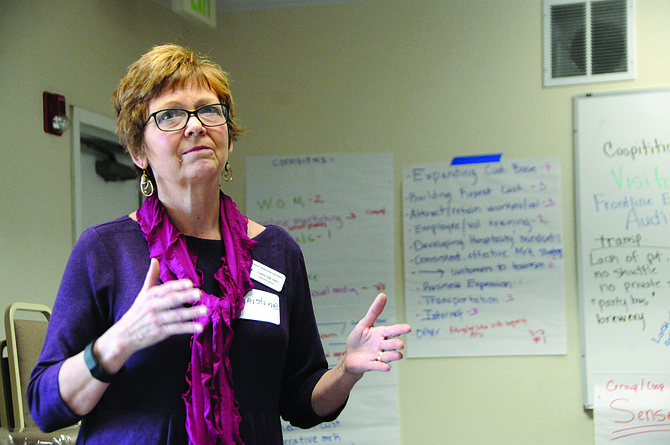 Photo by Lorie Palmer
Christine Frei with CEDA speaks at the Grangeville tourism listening session March 2 at Super 8 Motel.
GRANGEVILLE — One in a series of more than 10 regional "listening sessions" brought nine people to Super 8 Motel March 2.
Christine Frei and Deb Smith with Clearwater Economic Development Association (CEDA) and in partnership with NCITA (North Central Idaho Travel Association), led the discussion.
"Tourism is the third largest industry in Idaho, with $150 million spent on tourism in 2014," Smith said. In North Idaho, 2,300 people are employed by the tourism industry.
Attending the meeting were representatives from Super 8, Gateway Inn, Three Mile Creek Bed and Breakfast, The Gallery, U.S. Bank, Alpine Motors and the Idaho County Free Press, all in Grangeville, and Swiftwater RV Park in White Bird. Also represented were Grangeville and Kamiah chambers of commerce.
"People don't usually just say, 'I'm going to Grangeville, Idaho, for a week's vacation,'" said Ted Lindsley, Super 8 owner. "They stop here for a night or two and they want to go on a day trip, see something of local significance."
The group discussed the need to develop a hospitality mind set.
"Sometimes it's difficult because we hire people unfamiliar with the area, so we must train them to not just answer 'I don't know,' but to help people find what they're looking for, to lead them places in our county," said Super 8 manager Tommiann Day.
Jeff Kutner, Grangeville Chamber of Commerce (and local business owner), said the state used to offer a hospitality course called "Idahost."
"This was before the bicentennial," influx he said, and added he felt the training was very helpful.
"Yes, we need to get employees learned on how to be hospitable," Lindsley agreed. "But I think we need to pay them for their time to do so, as an incentive."
Transportation issues – for employees as well as travelers – was also discussed.
Taffee Schaack, Kamiah Chamber of Commerce, said she has not only had visitors, but also area senior citizens who would like to take a day trip somewhere, such as on the Elk City Wagon Road, who are willing to pay for transportation.
"There just isn't that type of service around here," she said.
Kathy Wassmuth, U.S. Bank, said when she and her husband travel, they like souvenirs or mementos of where they have stayed.
"Such as a mug with 'The Gateway' on it," agreed Lenora Greig, who manages The Gateway Inn.
"Right, people want something that evokes a memory," Frei said.
The potential bypass of U.S. 95 was also discussed and Lindsley questioned how involved NCITA is getting ITD (Idaho Transportation Department) to not bypass small towns.
"Yes, that advocacy is important," answered Smith, who added that one of ITD's missions is to promote economic opportunity.
Upcoming local listening sessions include:
•Riggins: For outfitters/guides, boat guides, hunting and fishing guides: Wednesday, March 15, Riggins Community Center, 121 Lodge.
•Kamiah: For outfitters/guides, boat guides, hunting and fishing guides: Friday, March 17, Kamiah Emergency Response Facility, 507 Main Street.
•Cottonwood: For attractions, museums, events, chambers, casino, golf courses, etc.: Thursday, March 23, Monastery of St. Gertrude Spirit Center, 465 Keuterville Rd., Cottonwood.
•Kooskia: For attractions, museums, events, chambers, casino, golf courses, etc.: Friday, March 31, Kooskia City Hall, 26 S Main.