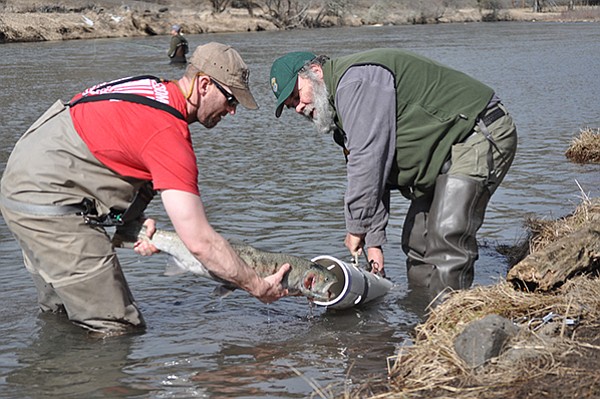 Photo by David Rauzi
An angler helps IDFG fisheries technician Stan Hawkins slide a steelhead into a collection tube at Outfitter Hole on the South Fork of the Clearwater River, on March 4.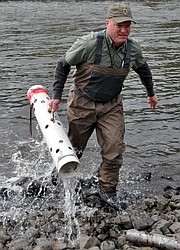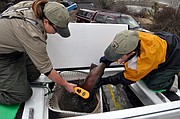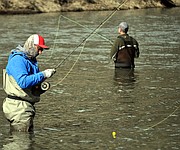 SOUTH FORK – "This is quite a boost to this area," noted Stan Hawkins, fisheries technician, Idaho Department of Fish and Game.
Driving along State Highway 13 earlier this month, Hawkins didn't need to point out the significance of the South Fork of the Clearwater River to steelhead anglers; the numerous vehicles and pedestrian traffic at prime fishing holes spread from the base of the Mt. Idaho Grade to beyond Harpster speaks for itself. At this time four years ago, one Sunday he counted more than 200 vehicles parked between the Mt. Idaho and Harpster grades.
"This is a world-class fishery," Hawkins said, drawing fishermen from as far away as Alaska and Pennsylvania to catch Idaho steelhead from the confluence at Kooskia to the former mill site at Elk City up State Highway 14 – some of the largest in the world are pulled out of the Clearwater with the state record being a 30.13 pound, 44-inch fish caught from here in 1973.
Hawkins' job is harvest monitoring, conducting creel counts with anglers to determine catch rates – what was caught, how long they've been fishing, etc. – and for the past eight years he's overseen the South Fork Clearwater Localized Steelhead Brood Stock Collection, a fisheries program that supplies steelhead to hatcheries at the Clearwater and Dworshak national hatcheries from anglers who volunteer to turn over their catch.
"And it's been really successful," Hawkins said.
The program's intent is to improve the returns to the South Fork Clearwater's steelhead run. Collected brood stock are kept separate in the hatchery, and smolts from those fish are distributed at locations along the river. On average for distribution, the Clearwater Hatchery will provide 840,000 smolts and 400,000 from Dworshak.
At spawning, those are likely to return to these locations in high percentages. Last year was the first year in the program to start using smolts entirely from South Fork steelhead, which will be distributed later this month.
How collection works is a cooperative effort with volunteer anglers and IDFG that on average runs around six weeks – less if the fishery is running well, such as this year, which should be completed in approximately four weeks. Hawkins stakes out approximately 25 fishing holes along the Clearwater – from Mt. Idaho to the mouth of the South Fork – where perforated PVC tubes are located for volunteers to put in caught steelhead. At approximately four feet long and eight inches in diameter, tubes keep fish alive until IDFG employees can collect them.
"They weigh about 40 to 50 pounds when pulled out," Hawkins said, and held with a rope handle these are run up the bank – before water fully drains from the tube — to a 500-gallon-capacity fish transport truck that on average can hold up to 80 steelhead. Here, IDFG technicians record fish data – determine male or female, length, and whether they are native or hatchery origin; only hatchery origin fish will be collected for brood stock.
Speaking from the Outfitter Hole near Harpster, Hawkins said these fish would be taken to the Dworshak hatchery at Ahsahka, where the smolts from collected stock will be released into the South Fork next March. This year's collection goal was approximately 560, roughly split between males and females; 380 are bound for the Clearwater hatchery, and the remainder to Dworshak.
Regarding collection by volunteers versus traps, Hawkins explained that although two weirs are set up on Crooked River and Red River to collect chinook salmon, "we currently do not have a weir in place to collect steelhead." Where to place a weir on the South Fork Clearwater for best collection is currently being considered, but until a desirable site is found and funding secured, IDFG will continue to utilize volunteers.
Using volunteers, he added, is a great public relations tool for IDFG on promoting its fisheries work and giving anglers investment into the program.
"Overall, this program is very well accepted by the anglers," Hawkins said. For example, "I have a group as far away as Arizona call me: 'When do you want us?' and they've been doing this for years." Initially the program was met with some controversy due to misunderstanding of its intent and that it would be reducing catchable steelhead numbers in the South Fork Clearwater.
"With improved communications with the angling public, most favor the program, understanding that the goal is to improve returns to the South Fork Clearwater," according to Hawkins.
Talking to an angler, Nick Steiner of Mccammon, at Outfitter Hole on March 4, he had this to say: "The conservation program Idaho fish and game has put together for steelhead requires a team effort between fisherman and biologists. This collaborative effort not only sustains fish numbers but also builds relationships and trust between fisherman and fish and game."
"We're always trying to improve fish runs," Hawkins said. "This is a world-class fishery and we can see what the economic value is to this area."