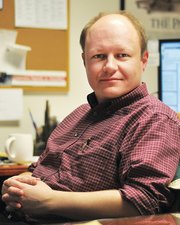 Voters can't sluff off into apathy, thinking that politics is eased off for a year, until we get into mid-term elections.
Just get a load of what is coming up this year: 47 elections.
The first round of these comes up May 16 when board of trustee members will be chosen for six area school districts (Cottonwood, Salmon River, Mountain View, Nezperce, Kamiah and Highland); one hospital and library district (Syringa and Prairie River, respectively); Clearwater Water District; three water/sewer districts (Pine Ridge, Rapid River and Valley View); and then 12 highway districts (Cottonwood, Deer Creek, Doumecq, Fenn, Ferdinand, Grangeville, Greencreek, Keuterville, Kidder-Harris, Union Independent, White Bird and Winona).
That is, of course, if there are contested seats. Candidacy filing deadline is this Friday, March 17 (note: Filings need to be done with the clerk of the district in question). If incumbents are uncontested, races in those districts can be declared and no election will be held.
What about the next round for Nov. 7 elections? 23 races may potentially be held.
City councils are the ones most people watch; Cottonwood, Ferdinand, Grangeville, Kooskia, Riggins, Stites and White Bird will have open seats. Less watched will be the White Bird Area Recreation District, the 11 cemetery districts (Clearwater, Cottonwood, Ferdinand, Grangeville, Kamiah, Keuterville, Pine Grove, Riggins, Winona, White Bird and Woodland), and four fire protection districts (Cottonwood Rural, Grangeville Rural, Harpster and Kamiah).
Candidacy declarations in these races are a little later in the year, Sept. 8, so you have time to think these over.
Apart from city councils, these district governing boards get little to no publicity concerning their plans or actions; overall, they should take more responsibility in informing and updating their constituents on business. These entities are no less important than the big political horse races we watch in Boise and Washington, D.C., and we'd argue probably more so as they directly and in some cases immediately affect local residents.
You do pay taxes for their operations. Check your statement from the county; it's all outlined there.
Still need more info? The Idaho County Clerk's Office can answer questions, 983-2751, and as well go online for details: http://idahocounty.org/clerk-auditor/election-information/.
It's time to pay more attention to these districts.