"Chiropractic is a natural method of health care that focuses on treating the cause of the physical problem, rather than just treating the symptoms," said Dr. James Haug of Haug Chiropractic in Grangeville.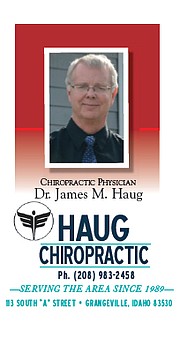 What is a Chiropractor?
Doctors of Chiropractic (DC's) – often referred to as chiropractors or chiropractic physicians – practice a hands on, drug free and surgical free approach to health care that includes but is not limited to physical examination, X-rays, diagnosis and treatment. A chiropractic care practitioner has a minimum of six years of education. After graduating from chiropractic college, they must pass national board exams and state board exams before they become licensed. They also must maintain their state licenses by earning Continuing Education (CE) credits through state approved CE programs.
What does a Chiropractor do?
"One of the most common and well-known therapeutic procedures performed by a chiropractor is a spinal manipulation also referred to as a chiropractic adjustment," Haug said. "The purpose of the chiropractic adjustment is to restore joint mobility by applying a controlled force into the joint that has become restricted in its movement. Other methods of treatment are electrical muscle stimulation, ultrasound, hot packs, cold packs and exercise."
What do Chiropractors treat?
The most common conditions that chiropractors see patients for are low back pain, leg pain (sciatica), neck pain, arm pain and headaches. Other common conditions that chiropractors treat are foot pain, knee pain, wrist, elbow and shoulder pain.
Dr. Haug is a preferred Chiropractic provider for Regence, Blue Cross and Medicare in Grangeville. For an appointment, please call 208-983-2458.