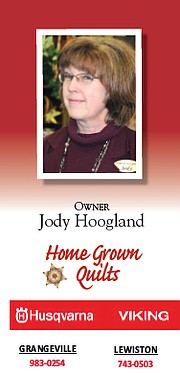 Honor your quilt shop by supporting them and keeping them in business.
a. It's so easy to shop online, but it does
zero good for local economy.
You shall not use fabric made from poorly made fabric.
a. You will regret it after a few washings.
You shall learn a quarter inch seam for most quilting patterns are designed around them.

Remember to have your sewing machine cleaned often.
a. We provide service & repair at Home Grown Quilts!
You shall not copy from books or patterns and give the copies to your friends.
a. No-no.
You shall not do your cutting with a dull rotary blade.
a. Unless you like mangled fingers
and shredded fabric.
You shall not iron.
a. Quilters do not see-saw an iron, we press…very different …. come in and we'll show you how to press correctly!
You shall not resist taking classes to learn more about quilting.

a. We always have lots of classes for lots of
different things at both of our Home Grown Quilts locations (Lewiston and Grangeville)
You shall always bring your finished projects into Home Grown Quilts for Show and Tell! — we love it!

You shall have fun with your projects!