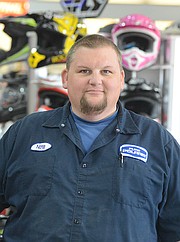 Outdoor riding enthusiasts are asking the pros at Bud's PowerSports what the best, most useful, most popular accessories are available for their side-by-sides. 
"Answers obviously can change from person to person depending on their riding styles, preferences on where they ride and what time of year they ride," Bud's PowerSports salesman Nate Gentry said.
But everyone wants to stay as dry and as clean as possible. 
"If you like to ride during the winter or rainy seasons then you definitely will want a windshield," Gentry said. "If you have a windshield on your side-by-side, then you'll probably want a rear window as well.  This keeps the air movement throughout the cabin area instead of swirling the dirt in just behind the windshield." 
There are many types of windshields for purchase, and windshield wipers as well. 
"We all are aware that a top or roof is most important," Gentry said. "It keeps the elements off your shoulders, and keeping the sun off of you leads to a much more tolerable ride."
Bumpers, winches, doors, racks, tire upgrades and more are available.
"All accessories have a purpose," Gentry said. "If you are a hunter, the weather always plays a role in your season. You may need to winch your animal uphill. In a pinch, you can get yourself unstuck."
Every customer has different needs and wants – and those who look at what is available can usually find what they want. Bud's PowerSports, 208-962-3211, is the local outlet for popular and practical parts.