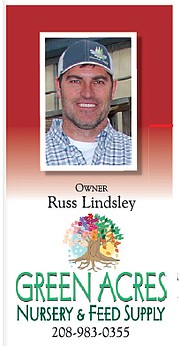 Eventually, we'll get out of what has been a significant precipitation cycle for the region, but in the meantime, March is when we can start working on gardening preparation activities so we're ready to hit the ground running come the green-up.
Green Acres Nursery in Grangeville has your initial game plan on where to start.
What about your flower garden? Now is the time to order your plug plants. No need for a greenhouse; get those set up in a sunny windowsill. Keep those tended, including feed or plug boost, to ensure they get the best start.
Fertilizer, now? Yes. Give your trees, shrubs and hedges a helping of slow-release fertilizer; work it lightly into the soil surface. Roses will need a more balanced fertilizer as they come into growth into the season.
While you're outside, work on these areas:
For bulbs that have finished flowering indoors, such as hyacinths and daffodils, get those planted. Put your supports in now for garden plants so they can eventually grow into them. Also, cut back dead foliage left on perennials and ornamental grasses to prepare the way for new growth. Don't forget your soil prep. If you have workable soil, first get out all the weeds and dead plants from the season prior. Next, dig in a layer of compost into your beds. Then, to keep your soil drier and warmer in preparation for planting, cover these with black plastic.