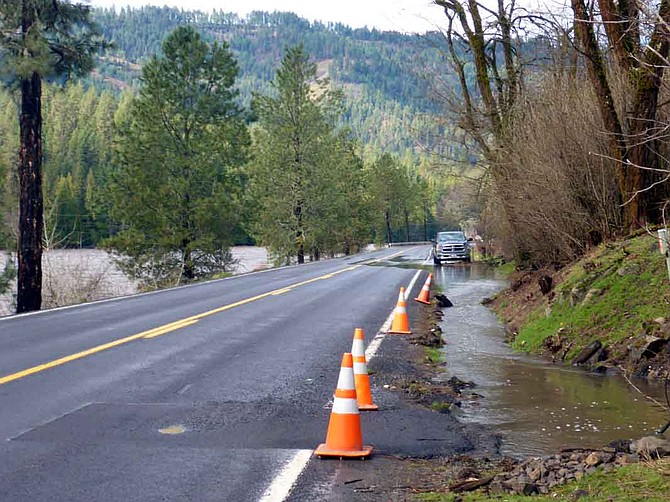 STITES — With about an inch of rain thought to be on the way, National Weather Service forecasters are anticipating bigger trouble may come from area rivers and creeks this weekend than has been seen already.
With waterways in South Fork Clearwater River country already running high, a flood watch is in effect Friday evening through Sunday afternoon for river communities above Orofino, while a flood warning is in effect for fields and streams in Nezperce and Lewis counties.
On St. Patrick's Day morning, March 17, Idaho County disaster management official Jerry Zumalt assessed the situation as a "potential threat of high water to the Stites area…but significant flooding is still not a certainty at this time."
River communities above the confluence at Kooskia have already faced disruptions.
County workers have been battling problems surging streams have posed to local roads, such as in Cottonwood Creek, while the state transportation department briefly closed and then reopened US Highway 12 on Thursday.
As of 11:02 a.m. March 16, Idaho Transportation Department (ITD) was reporting water over the road in multiple locations between milepost 81 and 102, east of Kooskia between Harris Ridge Road and Bald Mountain. The road has not been closed but ITD is asking drivers to use extreme caution in that area.
ITD informed drivers Thursday to expect delays between Pete King Creek Road and Bald Mountain because of surface water hazard and debris in the road at milepost 103, east of Syringa. A mudslide danger warning was still in effect Friday morning for milepost 89 east of Kooskia.
Veda Pfefferkorn, who lives near Maggie Creek, which joins the Middle Fork Clearwater River above Kooskia, said it has been scary "listening to the rocks rolling and hitting each other." Maggie Creek is about 10 feet from her home and running "like a river," she said Friday morning.
"Way back, my father-in-law Verle said when he was younger it was high," she said. "I don't think it's ever hit the house. We pray it won't. You never know what mother nature will do though. If something does happen, we've had many people call us and message me saying they are ready to help us if it gets worse and we appreciate everyone checking on us."
The wet weather seen so far nudged the South Fork's Clearwater River depth at the US Geological Survey's Stites streamgage to nearly 6 feet, 6 inches Thursday morning – about a foot shy of the "action" stage. Whether it will rise to the forecast depth of more than 9 feet depends on the rain: how much falls, where it falls, and for how long.
The weekend weather in Kooskia calls for a 90 percent chance for rain tonight, March 17. Saturday's forecast includes a 100 percent chance of rain with wind gusts up to 24 miles per hour (mph), continuing through the night. Sunday drops to a 20 percent chance for showers.
The Grangeville weekend forecast is very similar and calls for a 20 percent chance of rain today and 100 percent chance of rain overnight. Saturday showers are anticipated with gusts of wind up to 28 mph and will continue through that night. Sunday calls for a 20 percent chance of precipitation.