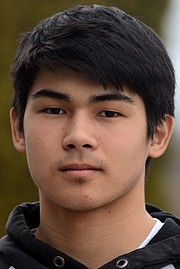 Grangeville sophomore Chase Adkison socked two home runs last week.
Having struck out early on against a Clearwater Valley pitcher, Adkison worked a late-game at bat more patiently against CV's Ty Dominguez.
He smashed a 3-2 pitch over the fence and that home run — his first for GHS — helped seal a 14-7 win.
So did his pitching, as Adkison booked 11 strikeouts in four innings of work against the Rams.
Later in the week, Adkison slugged a longer home run off of a pitcher thought to throw fastballs in the high 80s and low 90s.
"I think he tops out at 92," Adkison said of Washington State commit Koby Blunt's fastball. "He threw me a first-pitch curveball and then went with fastballs."
Blunt, who joined the Clarkston JV this past off-season, ended up throwing Adkison the fastball he expected in a 3-2 count; Adkison slugged it out of riverside yard where Asotin plays its games.
But one strong swing would not be enough to overcome the deficit the Bulldogs carried after the first inning last Friday, March 17.
Free passes, both in the GHS pitching and fielding, have kept the Bulldogs on their heels so far.
"We're a young team," Adkison said.
Three seniors and five juniors head a squad of 22 that also features five sophomores and nine freshmen.
Grangeville has games coming up March 24 at Pomeroy, April 3 against Genesee at Lewiston and, the home opener, April 4 against Clearwater Valley.
This Bulldog of the Week athlete highlight is brought to you by: Grangeville Builders Supply.