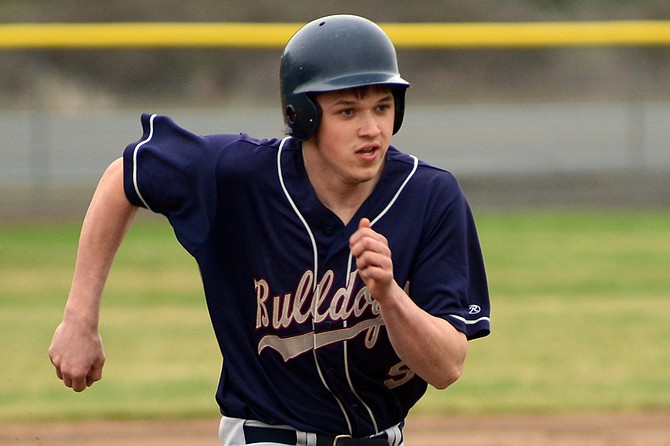 Photo by Andrew Ottoson
Grangeville senior Tristan Roberts helped lift the Bulldogs into a close game last Friday, March 17, against the Clarkston JV, having banged out a couple of hits against Asotin earlier in the week.
KOOSKIA — Clearwater Valley handed opening day starter Keiran Owens a 7-0 lead two innings into the Rams' first game of the season. But in the course of hosting Grangeville, CV's bats went quiet last Tuesday afternoon, March 14.
GHS took the lead in the sixth and went on to win, 14-7.
After Grangeville chased Owens in large part due to Ethan Bonn's two-run double in the top of the third, the next three pitchers couldn't keep the Bulldogs off of the bases.
Against CV, Chase Adkison booked 11 strikeouts and hit a two-run home run.
Later in the week, Adkison went yard on St. Patrick's Day.
Former Asotin flamethrower Koby Blunt had transferred to Clarkston for his junior season, but according to the Lewiston Tribune, Blunt was denied a waiver to play varsity ball this year. The Tribune reported Blunt's verbal commitment to Washington State last spring — an opportunity evidently opened up by his ability to throw strikes at 90 miles an hour.
Grangeville fell behind 6-0 early as Blunt fired strike after strike. After Adkison hammered one over the fence during the bottom of the third, the Bulldogs started making contact.
The Bulldogs rallied within 6-4 in the bottom of the seventh, with a runner reaching on an error followed by Trent Hunter's double setting the table for a big inning. The Bulldogs closed within 6-4, but a bases-loaded opportunity went down as a sacrifice fly and the JV Bantams escaped with a win.
The Bulldogs played four games in all at Asotin last week, with a regularly scheduled Thursday night against the Panthers and a couple of rainouts made up on Monday.
Against Asotin, Tristan Roberts had two hits for GHS but the Panthers overpowered three GHS pitchers during a 13-3 win.
Grangeville's Saturday afternoon double-header was pushed back to March 20 by weather. Colfax won an afternoon start 11-0, and Colton won an evening contest 18-6.
Next, Grangeville (1-4) is scheduled to play at 3:30 p.m. March 24 at Pomeroy.