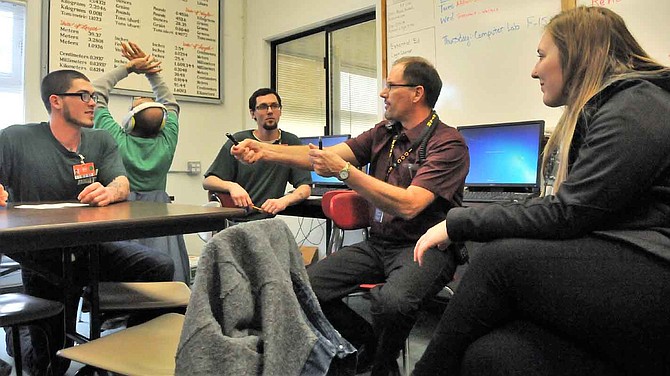 Photo by Laurie Chapman
Kevin Rehder, second from right, and Cassie Hettinga, a freshman at the University of Idaho, assist inmates at the North Idaho Correctional Institution during a math class March 15.
COTTONWOOD — "One, two, three, four, five. These are?" asked an inmate reading from a math cue card held up by instructor Kevin Rehder. Inmates call out math terms during a learning game at North Idaho Correctional Institution (NICI) Wednesday, March 15.
Eventually an inmate calls out the correct response, "digit," and his team earns a point.
The activity was part of the facility's educational program geared towards helping inmates qualify for their General Education Diploma, or GED. Sitting in the classroom was another student, one not typically housed at the prison.
Cassie Hettinga, a freshman at the University of Idaho (U of I) and majoring in secondary education with an emphasis in math, was volunteering as an educational assistant. Hettinga was among eight students and one faculty member spending their spring break at NICI.
The Alternative Service Break program is administered through the Department of Student Involvement at the university. Students participated in the Making Corrections: Enhancing Education in Incarceration event March 11-18, one of five programs available in the spring 2017 semester.
Across the hall from Hettinga, freshman Kaarin Von Bargen was working with inmate Joshua Stanton to develop a video for NICI. The project included a six-minute video interview with a long-term staff member that needed to be edited down to one minute.
Von Bargen is a freshman studying human resource management at U of I. She said the experience gave her exposure to a system to which she had no previous knowledge. She said it gave her a new perspective on how to prepare for hiring individuals with a history of incarceration.
"It absolutely gave me a perspective on what to look for in a candidate," she said. "I would love to be in a position to help someone who has been through this program."
The program not only benefits the students, inmates and staff were appreciative of the positive interaction as well.
"It's cool to feel normal again," Stanton said. "More people should be educated about what's going on here. This place is a great catalyst to make positive change in your life."
NICI Warden Aaron Krieger said he was grateful the students agreed to give up vacation time to collaborate with the facility.
"They have been a huge help, and it is just another vessel to spread the word about this population and what can be done to help them stay out of prison and be a positive part of our communities," he said.
Back across the hall, a team of four inmates was preparing for a seminar presentation. The group worked together to develop and resolve a word problem. With the use of a wipe board, the team presented the issue – if you have $87 and you need an oil change, will you have funds remaining to take your wife to dinner.
The assignment allows for real-world problem solving while teaching math skills. The team demonstrates the equation used to answer the question. Knowing the costs involved and factoring in taxable amount, the team determined they did indeed have the funds to purchase a meal.
Rehder and Hettinga complimented the team on finding the appropriate equation and their presentation in general.
"I've been really amazed at how dedicated to learning the inmates are," Hettinga said. "I was surprised to see how vulnerable they allowed themselves to be and how in touch with their emotions they are. There is a lot of hard work being done. This program has really demonstrated for me how you can learn at any age."