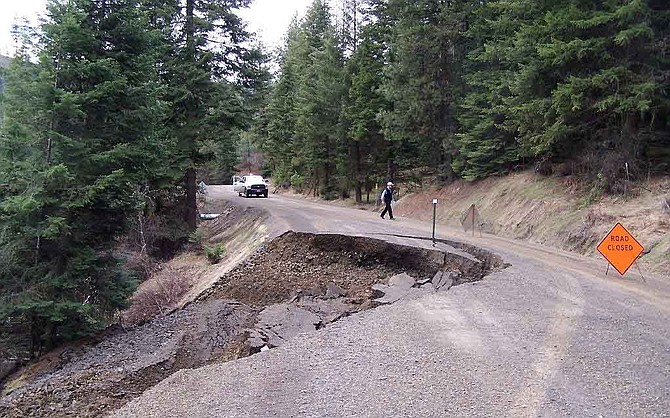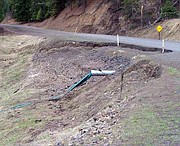 With last week's disaster declaration, the next step for Idaho County is assessment for damages and repair costs to its road infrastructure, impacted by a precipitation-heavy season resulting in extreme soil saturation.
Idaho County is one of seven disaster declarations – due to avalanche, landslide and flooding problems — picked up by the governor's office March 22 that potentially opens up 50/50 cost sharing on projects. Potentially more funding and additional work could be conducted if state damage costs exceed the $2.2 million threshold, opening the way for a presidential declaration and FEMA funds to be authorized.
"We don't have the funds internally to deal with this," said Jerry Zumalt, coordinator, Idaho County Disaster Management Office. More so than the scope of what repairs and remediation work will be needed, the county budget has already taken a hit in a snow-heavy season, expending more than $650,000 in removal this budget year.
Necessitating the March 21 Idaho County disaster declaration were three immediate road issues on Cedar Creek, Big Cedar and Cove roads, of which one in the days following worsened to result in a closure order.
East of Kooskia, a section 2.1 miles up Cedar Creek Road was closed last Friday afternoon, March 24, after a portion collapsed the prior evening. The road base has slid away, creating a 60 by 35 foot wide sinkhole estimated around 25 feet deep.
"And probably it's still moving downhill," Zumalt said. Due to public safety, the area has been closed to traffic.
In that area, a section of Big Cedar Road is experiencing substantial degradation with portions of the shoulder and outside lane dropping off as material migrates downhill. On Cove Road outside Grangeville, substructure problems are starting to develop; as of Monday, the center line crack has reached 42 feet long, varying between one and two inches in width.
Some problems have been repaired, such as on Carrot Ridge at the connector to Greer, according to Zumalt, but other problems related to soil saturation are developing, including on Adams Grade and Lukes Gulch Road.
Assessment on costs and the extent of needed work will be assessed by a geotechnical engineering firm tentatively set to arrive next week, according to Zumalt.
Costs for this can potentially be split 50/50 with the state, under its declaration, as could some repairs and emergency response costs, Zumalt said. For permanent repairs and more significant remediation efforts, were a presidential disaster declared for Idaho, this could potentially open up FEMA funding that could pay – for eligible projects – up to 75 percent, with the state and county paying, respectively 15 and 10 percent.
So far, Idaho County has avoided the flooding issues that have impacted several north and north-central Idaho counties. When Stites faces a high-water threat two weeks ago, the county had bags and 28 tons of sand placed by city hall; that threat receded and forecasted flood waters didn't materialize.
"There's been some private property that's been impacted for sure," Zumalt said, but he continued, "it is almost impossible to get individual assistance. It takes a massive loss." How much? Citing a disaster example still fresh in mind, Zumalt said 63 homes were lost to the 2015 Kamiah fires, but that still didn't exceed the threshold for federal public assistance.
For local assistance, the county has to have jurisdiction and authority to maintain the road system, he said.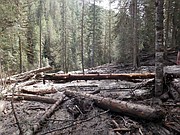 •
Besides Idaho County, the Idaho Transportation Department for weeks has been dealing with minor rock and debris slide issues, and some activity – but no road blockage — has been reported at the site of 2016's Elk City Slide on State Highway 14. Issues have been also reported on road systems for the Nez Perce-Clearwater National Forests.
Last Friday evening, March 24, two USFS roads were closed on the Moose Creek Ranger district due to slides and debris: Swiftwater Road 470 (closed at the Swiftwater Bridge) and Falls Point Road 443 (closed at the gate near milepost 24).