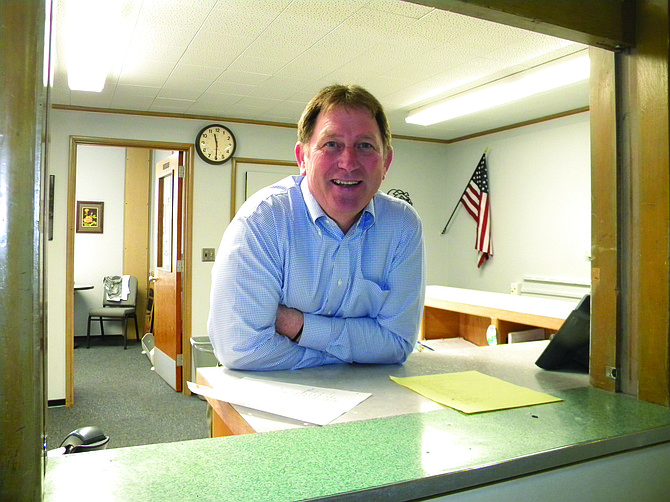 Photo by Lorie Palmer
Steve Higgins will move from Grangeville High School to Kamiah High School for the 2017-18 school year.
GRANGEVILLE — Steve Higgins is coming full circle.
Higgins' service as Grangeville High School's principal for the past nine years will come to end this spring as he becomes the superintendent of Kamiah Joint School District 304. It's a familiar location for the educator, as he went through his early years in the school district.
Higgins's family farmed in the Winona area, centrally located between Kamiah and Grangeville. He attended elementary, middle and high school in district 304, graduating from Kamiah High School in 1982.
"I had a good education," he said. "I am a firm believer you get out of it what you put into it, and our state's schools provide a good education for those who are willing to put in the work."
However, Higgins himself freely admits it wasn't the academics that kept him in school.
"It was sports and activities – all the extracurriculars," he said. They kept me focused, and I knew there were certain grade and behavior requirements I had to adhere to." He was involved not only in sports, but also student government, drama and music.
Following graduation, he attended Lewis-Clark State College in Lewiston.
"All I wanted to do was play baseball," he said. "I was not a mature student. I was a little fish in a big pond, and I was basically asked to leave – I flunked out."
He attended University of Idaho where he said he found, "the same rules applied."
He worked a while as a carpenter at the mill and in the retail sporting goods business. He married Mary Wassmuth of Greencreek in 1986, and began to mature, he said.
"I was ready to go back to college, and I was able to be successful," he said. He obtained his bachelor's degree and teaching certification at LCSC and began by teaching social science, health and coaching at Nezperce.
"I began to find I liked to help solve problems," he said. That knowledge encouraged him to continue his education and move up the school system ladder.
He received his masters in administration from the U of I and went on to be principal at Orofino Middle School, and then at Kamiah High School for four years. Following that, he began his tenure at GHS.
"It was a good career move, and it's been a tremendous experience," he said.
One credit short of an education specialist, Higgins found the Kamiah superintendent job appealing on many levels.
"I know it's a good district, but I also know it's had its challenges," he said. "I am a commonsense approach type of guy, and I plan to be myself and try to be the best I can be in the position Kamiah has hired me for."
In addition to being a halftime superintendent, Higgins will also be the kindergarten through third-grade principal and federal programs director.
"I have not been in the elementary setting like that before, and I am really looking forward to being with the younger kids and getting to know them as well as support the teachers," he said.
Higgins said he has always been "place oriented," and knew he would not consider a job unless it was within reasonable distance of his Winona home. He and his wife and their two grown sons run 15 head of cows and farm on their 200 acres, all the while working "day jobs" as well.
"It's my release to work at home," he said. "We're not big travelers, so farm work is what we do for fun."
Higgins said he looks forward to giving back to the community of Kamiah and to the educators and others who helped him in his formative years.
"I want Kamiah schools to know they are as good as anyone else, to believe that, and to boost their morale," he explained. "We need to build on the positives, and there are definitely a lot of positives. I want to look at what we are doing right in Kamiah and build on that."
He said he sees the [Nez Perce] tribe and non-tribal members as a team that can work together to support a school system that strengthens all of its members.
Though he is excited and ready for a new journey, he said the most difficult part will be leaving behind a great staff and kids at GHS.
"I will still be part of this community as a farmer, a golfer, an educator," he said. "I have learned so much through this experience."
And although he is coming full circle, he wants Kamiah to know "it's not all about Steve."
"What needs to be done cannot rest on one person," he stated. "It will take all of us to make the changes and to offer the best possible school experience for our students."