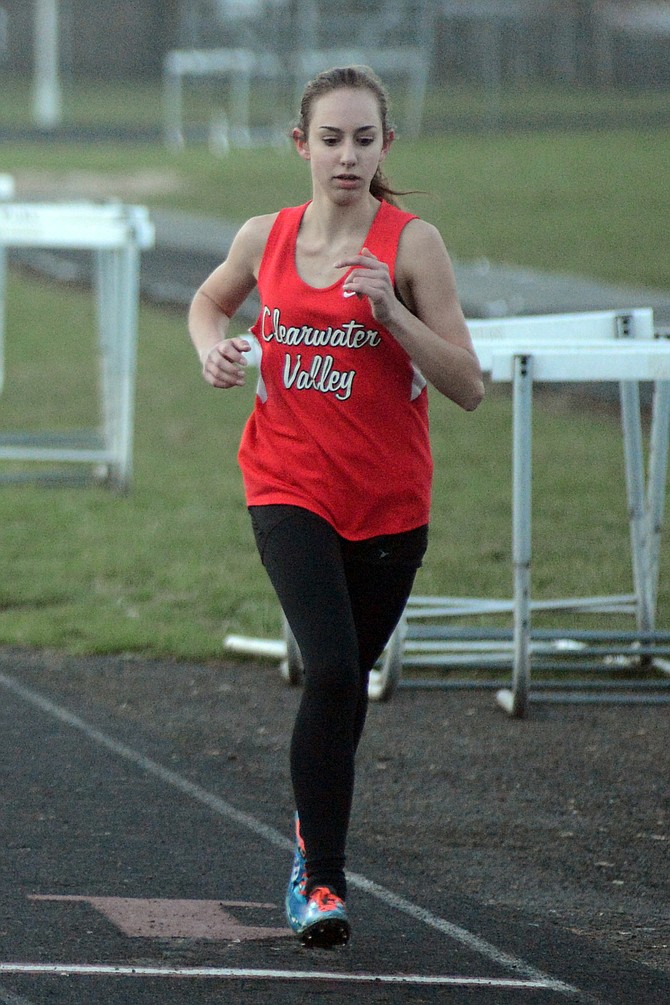 Photo by Andrew Ottoson
Clearwater Valley's Melanie Gianopulos won the girls 1,600 last Thursday, March 23, at Kamiah, with a time of 5:58.71.
KAMIAH — Having competed against mostly smaller schools earlier in the week at Kamiah, Grangeville and Clearwater Valley last Saturday, March 25, measured off against some of the bigger ones they'll see this season.
But with districts still more than a month away, they're looking mainly at improving on marks they posted during the first week of spring sports season.
Clearwater Valley senior Cole Olsen lingered within 10 seconds of Lewiston's Austin Byrer in the mile run, and Olsen won the two-mile race outright with a time of nine minutes, 46.35 seconds.
Another Rams senior, Mika Rives, was the only competitor to clear 12 feet in the pole vault. Rives' clearance was enough to put him ahead of Coeur d'Alene's Connor McMurray, Sandpoint's Slade Rucker and Grangeville's Noah Kaschmitter, who all topped out at 11-6.
On the girls side, CV freshman Melanie Gianopulos ran the leading two-mile time — 13 minutes, 1.16 seconds — in a race paced by underclassmen.
Moscow senior Katherin Ruck ran the girls' mile 13 seconds faster than Gianopulos, whose fourth-place time of 5:41.14 compares favorably to the results seen at the 1A state meet last spring.
At Kamiah last Thursday, March 23, the Grangeville boys scored second to Orofino; so did the CV girls.
Rams senior Trey Pfefferkorn ran his fastest 100 of the season so far, which converted to 11.64 seconds according to athletic.net.
Olsen ran the fastest half-mile, 2:05.43, which was a couple of ticks slower than his March 18 run at Lapwai. Olsen set a new PR of 9:43.90 in the 3,200.
Olsen sat out the mile at Kamiah, which Kamiah sophomore Michael Macmenamin won in 4:58.30.
Grangeville's medley relay of Noah Kaschmitter, Booker Bush, Clayton Brown and Justin Detweiler won in 4:01.01. The boys medley covers one mile; Kaschmitter and Bush each took the baton 200 meters, with Brown going 400 and Detweiler going 800.
In the throws, Kamiah junior Kaleb Oatman won the shot put, firing out a 42-6½ and Prairie senior Ryan Glimp won the discus with a throw of 138-3.
Grangeville sophomores Clayton Brown and Kaschmitter, respectively, won the high jump and the pole vault. Kaschmitter's 12-0 clearance marked a new top for his season and Brown's 5-8 clearance was a new career best.
On the girls side, Grangeville freshman JaKaili Norman won the 100 meter dash in 13.28 seconds. Norman also won the 200, in 28.62, and both her times were new personal records as these were her first competitive runs at the high school level.
Prairie sophomore Jordyn Higgins won the 400 in one minute, 6.19 seconds.
Gianopulos won both the 1,600 and the 3,200 at Kamiah.
Salmon River sophomore Chevelle Shepherd won both the hurdles races, with a 17.91 in the 100 and a 53.43 in the 300. She also won in pole vault (7-6).
Prairie's 4x200 and 4x400 relays both placed first, with Ciara Chaffee, Jordyn Higgins and Laney Uhlenkott covering three legs of each. Theresa Wemhoff opened the 4x200 (1:56.56) and Chaye Uptmor anchored the 4x400 (4:37.00).
Salmon River's Sarah Laritz won the high jump (4-8), CV's Fallon Wilkins won the long jump (13-9) and CV's Harmony Edmondson won the triple jump (28-8½).