An April 3 preliminary hearing is set for Michael McReynolds, 28, of White Bird, arrested last week on a felony grand theft charge.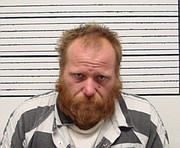 Continuing its investigation, the Idaho County Sheriff's Office (ICSO) is looking into whether McReynolds may be involved in other recent area thefts, according to Detective Jerry Johnson.
According to ICSO, McReynolds was arrested at his White Bird residence last Tuesday, March 21. ICSO detectives, acting under a search warrant, found a red 2000 Honda generator at his home, the serial number of which matched one stolen Feb. 10 from a White Bird resident on Banner Ridge Road. Also taken in that theft was a gas can and extension cord.
McReynolds is being held in the Idaho County Jail, pending his hearing next Monday, on a $20,000 bond.