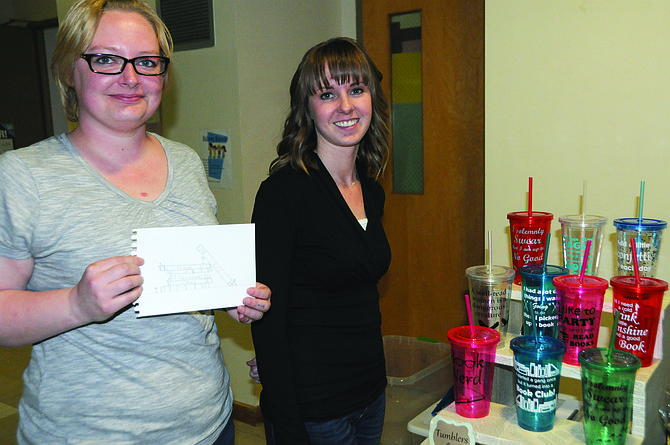 Photo by Lorie Palmer
(L-R) Grangeville Centennial Library assistant is shown here with her winning FOCL (Friends of the Centennial Library) logo design and volunteer Jamie Everson. See logo in below story,
GRANGEVILLE — Things just sort of fell into place for Dani Brooks when she moved to Grangeville.
"I moved here to be with my boyfriend, Jared, who works at the mill," she said. She wasn't sure what job she would find but the puzzle pieces started to fit together nicely when last August she was hired as a library aide.
The youngest of nine children, Brooks was born and raised in upstate New York where she graduated from high school and began her college career at community college and then Fredonia College in New York. She earned an associates degree in English and bachelor of arts degrees in art history and fine arts with studio work emphasis before deciding to head west.
"I loved school and learning and wanted to do something unique," she said. Almost all the rest of her family had nestled into the New York area, but Brooks decided to attend Washington State University to obtain her master of fine arts degree.
She worked in pottery and concept-driven art and enjoyed seeing a different part of the country. She met her boyfriend, who hailed from Coeur d'Alene, and moved to Grangeville where she "didn't know anyone."
"I'm a people person, though, and have been told I could make friends with a rock," she laughed. "It has just never occurred to me that someone may not want to be my friend."
Brooks said she has loved working at the library and was just recently promoted to assistant library director. She has a variety of duties, working about 30 hours a week and sharing duties with library director Angie Norman.
"I have sorted and gone through a ton of stuff, including weeding out old books and years of things in storage," she said. She is working on updating and completing series in the library as well as obtaining more audio books.
A voracious reader since the age of 3, Brooks sees the value of a library that offers more than books, but also a meeting space, computer usage area and community hub.
"We certainly get a lot of traffic here, including a large homeschool population that utilizes the library," she said. "One of my goals is to modernize the library while still maintaining what people enjoy and use."
Her fine arts degree has come in handy with her creative vision in helping to renovate and paint the children's area as well as clean out and ready a room for STEM (science, technology, engineering and mathematics) and other projects.
When not working, Brooks likes to work on her art, which she plans to have for sale at the Grangeville Farmers' Market this year, and spend time with her plethora of animals, including Norman Bates….
"He has mommy issues," she laughed about the large cat that was born in her family's barn in New York and has traveled cross-country with her. "He loves to stay in hotels."
Brooks and her boyfriend also have another cat, a dog, a hedgehog and "a cat TV" or two fish in a tank.
"Jared has indulged me," she laughed.
In their spare time, she enjoys video gaming with her boyfriend, cooking and is looking forward to having her own garden this year.
"I love my job here, the people I work with and the people in the community," Brooks said. "I also like the behind-the-scenes work, so I'm really enjoying whatever I do."