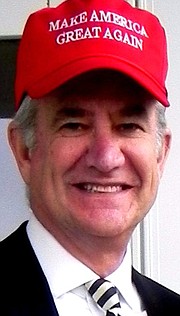 GRANGEVILLE — We've yet to complete close to half of this year, but a Grangeville businessman is already looking to 2018 and the Republican primary for U.S. Congress.
Last week, James M. Rockwell, 56, announced his intention to run for Congressional District 1 in next year's May primary. The seat is currently held by Raul Labrador, who was first elected in 2010 and is currently serving his fourth term.
The 2018 election calendar is not yet set by the Idaho Secretary of State's Office; however, filings for this seat should open in mid-March. Whether Rep. Labrador will run for re-election, or pursue the race for Idaho governor next year, is undeclared at this point.
"We Republicans have been given an opportunity to set a course of excellence these next few years, Rockwell stated in a one-page release. "It is essential we take advantage of that opportunity."
Rockwell, while stating his respect for Labrador, raised criticism with Republican congressmen for their failure to follow up on promises in the past three elections to repeal Obamacare.
"With historic control of the House, Senate and presidency, and after working on repeal legislation for seven years," he said, "when presented with the final bill, our Republicans choked. President Trump's entire 'America First' agenda hangs in the balance."
Rockwell stated the Republican-led Congress is destroying momentum and are failing in leadership that, he said, involves risk and solutions, and sometimes compromise.
"If current members of the House and Senate can't lead, we need them to get out of the way," Rockwell said.
His platform would be to repeal Obamacare, and to support President Trump's agenda on jobs, security and tax reform; to limit Congressional terms, pay down the national debt and hold federal government budgets flat (with exceptions for security and economic development) and incentivize local governments to refuse pork.
Rockwell has worked as an independent investment advisor since 1999, with past work history that includes founder and president of VATICO, a market entry consultancy in Vietnam, where he also served on the Business Advisory Group for the U.S. Embassy and as contract consultant to the World Bank. Politically, Rockwell served two terms as Idaho County Commissioner, and initiated a successful third-party campaign for Walter Hickel as governor for Alaska. A Grangeville native, he is married and has five children.
Contact Rockwell: 507-9020, 983-3027 or rockjville@yahoo.com .