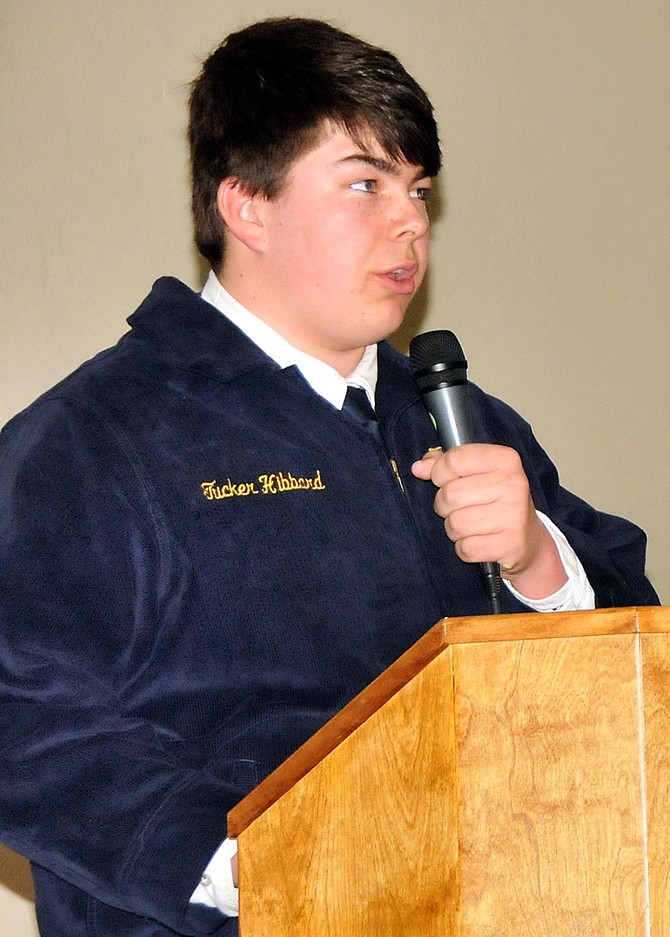 Photo by Laurie Chapman
Prairie High School FFA member, junior Tucker Hibbard, spoke at a recent organizational banquet.
COTTONWOOD — With only a few years under its belt, the Future Farmers of America (FFA) organization at Prairie High School (PHS) earned some recognition recently. PHS walked away with respectable honors after the 86th Idaho FFA State Leadership Conference April 5-8 in Twin Falls.
Two students placed in the top three during individual competition. One team earned top 10 honors and the advisor earned statewide recognition.
"The addition of [Don] Curry and the ag science and FFA programs have enhanced the overall educational experience of the students at Prairie Junior-Senior High School," said principal Carrie Nygaard.
Curry, faculty advisor, said there are nine districts in the state, Prairie being in the North Idaho District. Overall, there are 110 chapters in the state, which makes earning top honors no small feat.
Junior Tucker Hibbard took first place in the chapter challenge for a hope chest he constructed out of birds-eye maple and black walnut. At an auction during the event, it sold for $1,000.
Fellow student Ethan Ormsby, also a junior, earned third place in the chapter challenge for his pine and red fir coffee table. It sold for $300.
The farm business management team also placed eighth out of about 90 chapters. The team consists of three seniors: Haley Enneking, Selina Davila and Noah Arnzen, and junior Sierah Poxleitner.
Under the direction of Curry, students gain career development and leadership opportunities. Curry also earned recognition at the event, being named outstanding district advisor.
"Students don't have to come from the farm or ranch, but the point is they're getting the exposure to the ag experience," Curry said.
The National Agricultural Statistics Service reported there were 24,700 farms and ranches in Idaho in 2011, covering more than 11 million acres. Agriculture led the state's natural resource economy, contributing 4.5 percent to Idaho's total gross state product (GSP).
Primarily, Curry said, FFA introduces students to foods, fuels and fibers. The hope is that students leave high school "ag literate" and could benefit their communities by serving in farm bureaus, agriculture councils or an agricultural career.
While the Prairie FFA program was strong this year, of the 12 to 15 members most are upperclassmen looking to soon graduate. Curry hopes to cultivate interest among his junior high students to grow the program.
Friday, April 28, junior high students traveled to Asotin for a livestock judging program. Junior high students also travel May 10 and 11 to Bonner's Ferry for an agricultural mechanics, dairy foods and forestry judging experience.
Aside from events, Curry is in the early stages of building a greenhouse for students to begin cultivating horticulture projects. Students are currently piecing together a lean-to that will help fund future growth.
"This learning experience can pave the way for career choices," Curry said.