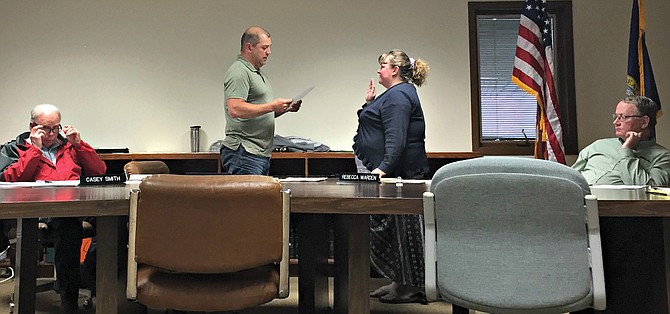 Photo by Lorie Palmer
Zone 3 trustee Rebecca Warden of Grangeville is sworn in by board chair Mike Dominguez, zone 4, of Kooskia. Also pictured are (far left) trustee Casey Smith, zone, 2, Clearwater, and (far right) board vice-chair Lot Smith, zone 1, Grangeville.
GRANGEVILLE — Mountain View School District 244's board voted unanimously April 17 to change its graduation requirements.
Students will no longer be required to take computers or physical education classes in order to graduate. MVSD had these requirements to obtain a diploma while the state did not have these conditions.
In addition, the board removed the requirement of Early American History (also not a state requirement) but opted for a civics class with emphasis on the U.S. Constitution.
"I think it's nuts that the state requires students to pass a civics test without a civics class to help the kids prepare for it," stated board vice-chair Lot Smith of Grangeville.
Board chair Mike Dominguez of Kooskia agreed that he would like to see kids understand the constitution better.
"I have sworn to uphold the constitution [for this board position] but I don't think our kids are learning enough about it," he said. "I am personally comfortable with pushing more toward the constitution."
"Yes – I don't think we need to compromise on constitution education, but as far as PE goes, I feel by the time you are in high school, you should be taking some personal responsibility for your body and what you want to do with it," Smith added.
Clearwater Valley teacher Char McKinney agreed a civics class with constitutional emphasis could be taught in one semester.
"All history is important but the state mandates we start in high school with the Civil War," she said. She agreed the kids could use help in preparing for the civics test, usually taken sophomore or junior years.
"I believe as far as computers go, it's basically a moot point to require the classes," CV principal Randall Miskin said. "Kids are going to take those classes anyway. They do take them, and they keep taking them."
Dominguez also said he feels those who take sports should be able to use that as a PE credit, something Grangeville High School has already allowed its students.
Although the board and administrators present said they feel physical education is important, they felt aligning with the state in that area would make more sense.
"This may really allow a kid to take an elective he or she is really interested in that they may not have had room for before," superintendent Kent Stokes said.
The changes do not mean less credits are required to graduated, simply that more electives can be taken to add up to the number of credits needed for a diploma.
Director of curriculum Cody Weddle said the new civics class can be worked on right away and can be ready for the coming school year.
•
In other news, Rebecca Warden of Grangeville was sworn in for a new term as zone 3 trustee. Warden was the only person to sign up in her zone. In addition, no one signed up for zone 5, which has been held by Jeremy Harris of Grangeville. No election was needed and a person for zone 5 will be appointed at a later date.
•
Stokes reported there will be a variety of positions to fill at all of the schools within the district as there are several resignations and retirements.
"We attended the University of Idaho fair [to recruit teachers] and though it was better than in years past, we will have a teacher shortage," he said.
Teachers leaving MVSD include Phillip Golde, Lindsay Cooley, Kelli Tinnervan, Steve Wassmuth, Krisi Pratt and Fred Malone.
Stokes reported Knife River will be repairing a couple of areas in the Grangeville High School parking lot by cutting out the pavement and building up under the area with rock. He also said he checked on the chip seal coating from Knife River for each of the GHS and CVHS parking lots and got a rough estimate of $125,000.
"That's pretty high and I'm going to keep checking around," he said. "I just know we've been told the chip sealing will extend the life of the lots by quite a bit."
•
Maintenance employee Ty Reuter reported he has received three bids for the tear-down of the building on the lot purchased adjacent to Grangeville Elementary Middle School (which will be used as a parking lot).
"The high was $16,500, and the low was $5,500," he said. Explaining there will have to be tests for possible asbestos removal, which can add another $2,200 to the costs.
•
Chartwells food service manager Maureen Burney noted they had an audit that found two minor issues.
"One was a wrong type of scrambled egg on a breakfast entrée and the other had to do with a spreadsheet that was not detailed enough," she said. "All in all, I was pleased and we don't have to have audit for three years."
•
The next meeting is set for Monday, May 22, 5:30 p.m., at Clearwater Valley High School's library in Kooskia.