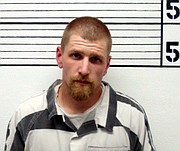 KAMIAH — Two individuals were arrested today (Wednesday, May 10) on multiple drug-related charges following a high-speed pursuit.
Court hearings are pending for Kyle W. Mercer, 28 of Orofino, and Susan E. Roberts, 28 of Lewiston.
Mercer was arrested for felony Eluding, Resist/Obstruct, Possession of Methamphetamine, Possession of Schedule IV Narcotic and misdemeanor Possession of Paraphernalia.
Roberts was arrested for misdemeanor Resist/Obstruct, Possession of Marijuana and Possession of Paraphernalia.
Charges resulted following an incident along U.S. Highway 12, according to an Idaho County Sheriff's Office release.
While on routine patrol early this morning, ICSO Corporal Craig Hoodman observed a 1986 Buick turn onto Woodland Road and accelerate to a high rate of speed. Hoodman followed and attempted to pull over the vehicle that was traveling at 64 miles per hour. The vehicle continued at a high rate of speed onto Glenwood Road, slammed on its brakes, and turned into a driveway.

At the end of the driveway, Hoodman observed the driver flee from the vehicle and run into an outbuilding.

Hoodman contacted the female passenger who was still in the vehicle and detained her, and then he contacted male driver in the outbuilding.
Roberts was released on her own recognizance and Mercer is being held in the Idaho County Jail on $20,000 bond.