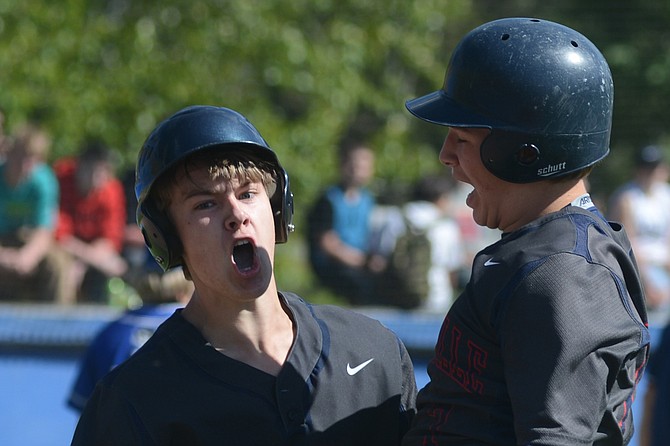 Photo by Andrew Ottoson
Grangeville's Hunter Schoo (left) and Michael Woods celebrated the tying and winning runs, which they scored against Orofino during the district tournament opener Monday night, May 8, at OHS.
Photo Gallery
Grangeville's 2017 district baseball title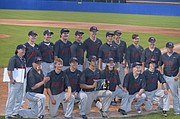 OROFINO — Though talking up their teammates from the visiting dugout, the Bulldogs were, officially, the home team Monday night, May 8 — so when it came down to the last at bat, it was the Grangeville boys' turn to win a place at state with one stunning swing.
Sophomore Chase Adkison stepped at the plate with the bases loaded with one out in the seventh, his team trailing by a run. After the opposing pitcher fell behind in the count, Adkison knew he'd get something to hit — and he hammered the 3-2 pitch for a walk-off double down the left field line, for an 8-7 win.
With a mix of walks, a hit batter and a defensive misplay, the game began to slip away from Orofino. After Tristen Riener laid down a bases-loaded bunt to score Trent Hunter, Riener ended up at first base — bringing up Adkison in a situation in which either a walk or a deep fly would tie the game.
"Hitting a walk-off is a great feeling — I've had that as a player," GHS coach Lee Nadiger said between games, "but we've had a lot of those go against us over the years. It was awesome to get one ourselves this time, and I'm so happy the guys finally got to have one go in our favor."
Adkison's double scored Hunter Schoo and Michael Woods, who relieved starter Tyler Stephens in the fifth.
After St. Maries ended Orofino's season, Grangeville beat the Lumberjacks 6-4 with Adkison pitching and belting three hits including two more doubles. Early and late in the game, Stephens' clutch hits scored Adkison from second.
The wins notched Nadiger's first district title as GHS coach.
Coming — Grangeville's state tournament opens at 12:45 p.m. MT May 18 in Idaho Falls.