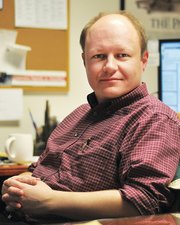 We're all leery of the government when it starts charging taxes and fees, as more often than not they'll remain in effect well after we and our children are long gone.
So, it was a surprising bit of news that came across the desk last week of the Idaho Public Utilities Commission deciding to suspend a surcharge that supports the Idaho Telecommunications Service Assistance Program (ITSAP).
Well, it's just 1 cent per month per line for the 2017 year, but hey, it's a start.
For background, ITSAP provides a discount of $2.50 per month for qualifying low-income landline and cell phone users. Program funds are supplied via a surcharge on all phone lines – business, residential and wireless.
Factors in the commission suspending the surcharge included a decrease in telephone lines supporting the fund in 2016, along with an even more sharp drop in subsidy recipients.
Again, 1 cent isn't much in the great scheme of things, but it's good that at least one portion of the government out there is looking out for taxpayers. The Idaho Legislature should take that idea to heart next session and consider where it can be reducing fees, charges and other "nickel and diming" of the public.
Better yet, someone take Governor Otter and his veto stamp on vacation out of state before the end of the 2018 session.