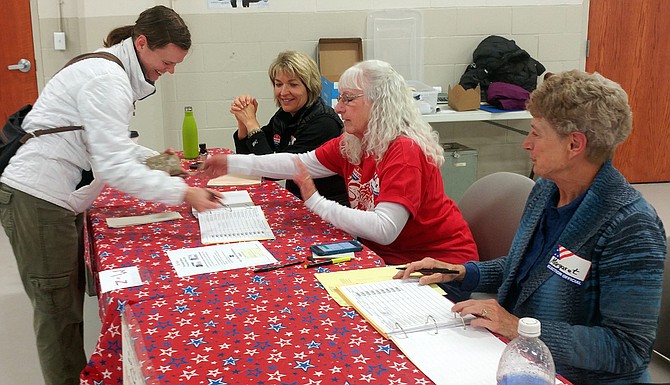 Photo by David Rauzi
A voter is assisted by poll workers at the Grangeville polling station at the Idaho National Guard Armory Tuesday evening, May 16.
Five locals were elected as Syringa Hospital board trustees in the Tuesday, May 16, election. In addition, levies passed in both Riggins' Salmon River Joint School District 243 and Cottonwood Joint School District 242.
Hospital Board
Elected to the Syringa Hospital board for its two six-year terms were Jerry Zumalt and Leta Strauss, with 583 and 368 votes, respectively. Also running were Ben Paul with 266 votes, Jo Hardy with 186 votes and Twila Hornbeck with 171 votes.
Two four-year terms were also available and were won by Gunther Williams and Jane H. Carlson, each with 540 votes. Also running was Paula Calceterra who had 346 votes.
One two-year term was up for grabs and was won by James H. May with 335 votes. Also running were Chad Jungert (314 votes) and Ted Sellitti (139 votes).
Levies
Riggins' Salmon River levy of $525,000 passed 149 yes to 32 no for a 82.3 percent passage rate.
Cottonwood's levy of $350,000 also passed, 269 yes to 112 no, for an approval rate of 70.6 percent.
Highway Districts
Kidder Harris Highway District: Commissioner Sub-District 2 – Vern Raff, 62; Richard Dale Whitcomb, 51; Commissioner Sub-District 1 (uncontested), Doug Ulmer, 108.
Greencreek Highway District: Commission Sub-District 2, John Schumacher, 60; Justin L. Nuxoll, 54; Commission Sub-District 1, (uncontested), Steven A. Sonnen, 89.
Doumecq Highway District: Commissioner Sub-District 1, Richard C. Brust, 49; Dan Lynch, 13.
All election results are unofficial until canvassed by the Idaho County Commission.