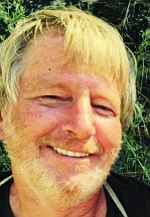 GRANGEVILLE — A body was discovered last week, identified as Tark H. Meyer, 67, who had been reported missing since last November. Cause of death is to be determined by the Idaho County Coroner's Office.
Meyer was reported missing near State Highway 14, milepost 19, on Nov. 21, 2016, last known to have gone hunting in the area a few days prior. Family members were unable to locate him and, according to the Idaho County Sheriff's Office (ICSO), his recent behavior had them concerned he may have harmed himself. ICSO deputies and search and rescue members searched the area for several days and were unable to locate Meyer.
Last Tuesday, May 9, ICSO search and rescue member Robin Embry took advantage of the weather and searched for Meyer, eventually locating him on a rock shelf east of where his camp had been.
Meyer was one of two missing men featured in an April 5 Idaho County Free Press story. Jody A. Perri, 57, of Kooskia, has been missing since January 2016. No updates are available in the case, which investigators suspect may be foul play.
Meyer's family has been notified and his body was taken to Blackmer Funeral Home in Grangeville.