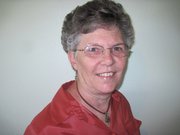 COTTONWOOD — Last Sunday was Mother's Day and the Knights of Columbus gave roses to all the mothers attending Mass. What a nice tribute. They are truly our knights in shining armor!
You might think that Dr. Seuss books are meant only for children. However, if you think again, you will recognize that Theodor Seuss Geisel wrote stories with deep and lasting meaning, stories that encourage profound values and beliefs. Come to the Spirit Center at St. Gertrude's for a mini retreat and discover again why you and your children enjoy these books. The retreat begins on Monday, June 5, at 7:30 p.m., and continues through Tuesday, and ends at 1:30 p.m., on Wednesday, June 7. Facilitator: Sister Jeanette von Herrmann. 962-2000, www.stgertrudes.org.
Christ the King Preschool and Daycare is now open from 7:30 a.m. to 5:30 p.m., year-round, available for children age 2 years old and up. Snacks are provided but the child should bring a lunch. No uniforms required and there is a $25 registration fee. Call or email to reserve a space, 962-3363 or preschool@summitacademyid.com. Monthly rates are available to fit your schedule. The preschool is owned and operated by Summit Academy. Gloria Palmer is in charge and you could not find a more loving substitute mother for your children.
Monday, May 29, is the official celebration of Memorial Day, honoring our fallen military heroes. The combined American Legion and VFW honor guard will conduct memorial ceremonies at the Greencreek Community Cemetery at 10 a.m., and the Cottonwood Catholic Community Cemetery at 11 a.m., followed by the Cottonwood Community Cemetery. Following the ceremonies there will be Quilts of Valor presentations at the Prairie Elementary School gymnasium, starting at noon.
All veterans are encouraged to join the honor guard in performing the ceremony. Meet at the American Legion Hall in Cottonwood at 9:15 a.m.
Bob Ross, Combined Honor Guard commander, Fred Seubert, American Legion commander, and Joe Riener, VFW Post commander invite the public to attend, remembering those who selflessly sacrificed to protect our freedom. The service includes the presentation of the colors, three-volley rifle salute, laying a memorial wreath, reading the names of the deceased veterans, playing TAPS, and a recitation of In Flanders Fields.
The Haiti mission team will be having a yard sale on May 20, in St. Mary's Church, parking lot on the same day as all of the Cottonwood community yard sales. It will be under the carport if it rains. There should be lots of yard sales so come to Cottonwood on Saturday. See you there!