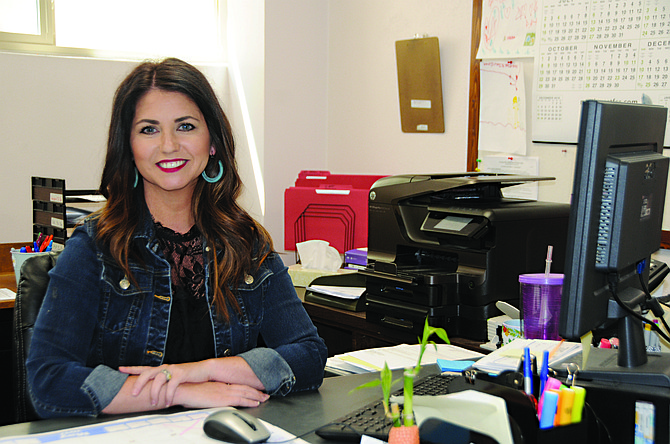 Photo by Lorie Palmer
As the Idaho County Veterans Service Officer, Camden Schacher is available to assist area veterans.
Nestled away in a basement corner of the Idaho County Courthouse is a treasure to area veterans: Camden Schacher, Idaho County Veterans Service Officer.
"I'm here to help, and I just want veterans and their families to know I'm here," smiled Schacher from behind a desk in room 29.
Schacher started as a dispatcher for the county a decade ago and then moved into the position of director of Idaho County Welfare, then just more than three years ago she took on the veterans assistance job.
"I definitely did not come into it knowing a lot, but I have a heart for veterans and I am learning so much," she explained. Both her grandfathers served in the military – one as a B-17 pilot – and an uncle did a tour in Vietnam.
Schacher provides assistance to veterans, surviving spouses and/or their dependents with the preparation of claims paperwork for a variety of different benefits available from the Veterans Administration (VA). Although the benefits have stringent eligibility requirements, she is able to explain those criteria.
"My office works closely with the Idaho Division of Veteran Services in Boise and has offices throughout the state," she said. Through this networking of services, she said she is able to provide the best possible assistance to veterans.
"There are things I may not know, but I do know how frustrating some of the paperwork can be when filing claims or for benefits or medical care," she said. "If I don't know the answer, I am committed to find solutions as quickly as possible."
Some of the benefits she is able to help with are VA Medical Center applications, service disability compensation claims, pension claims, burial benefits (including headstone/marker, Presidential Memorial Certificates) and survivor benefits.
She can also assist in setting up or changing direct deposit accounts from the VA, notifying the VA of any changes in address or living situations, and request of military discharge documents, personnel records, service treatment records and replacements of medals and awards.
"The paperwork involved in all this can be so stressful," Schacher said. "So, please, let me help. That is what I'm here for."
Schacher said she can also help explain various VA processes and make referrals to departments that handle specialized VA services including vocational rehabilitation, VA education and training, VA home loans, specialized house grants and applications for disabled veterans in need of home modifications, as well as services required by veterans dealing with homelessness.
A variety of grants for special circumstances are also available to veterans and Schacher said she can help get the ball rolling on those.
"Basically, if you're a veteran, come in and ask me questions and ask for help and we will find solutions," she said.
She said she had a few veterans feel the services are meant "for someone else."
"That's not true – no one veteran is more deserving than another," she emphasized. "I want every veteran to feel like they can come in and see me and we can visit about what benefits they have coming to them. That's what these benefits are for – for them. For their service."
Contact Schacher by calling 983-0239. Appointments are helpful as certain paperwork may be required; however, walk-ins are also welcome.